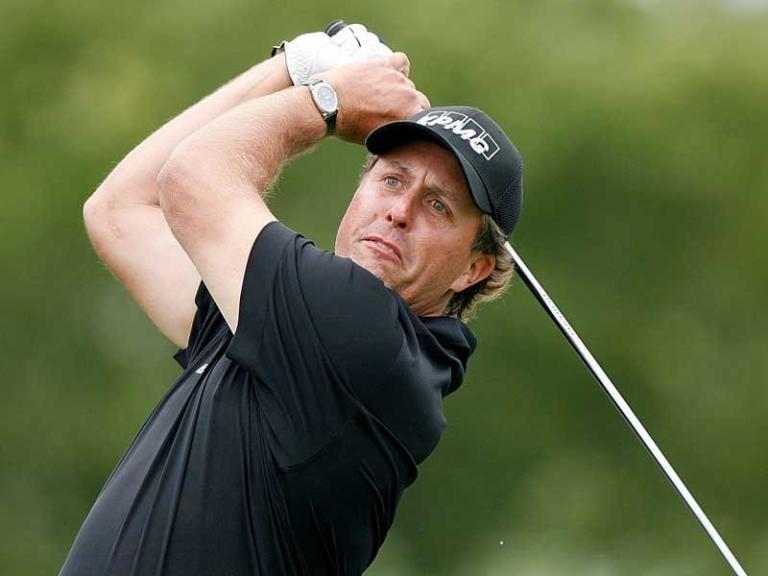 Phil Mickelson–the fifty-one year old, left-handed, superstar pro golfer of the PGA Tour–apologized today for his highly critical comments against the PGA Tour that he has made in the past several days. I've been blogging about it (here, here, here, here, here) because it has been the talk of the Tour.
A proposed pro golf tour called the Super Golf League and financially backed by the government of Saudi Arabia seeks to seriously compete with the PGA Tour like no other pro golf tour has ever done before by luring away from it the game's top players by offering them huge sums of guaranteed appearance money for playing in their proposed tournaments. I blogged that even former U.S. President Donald Trump is in talks with them about holding tournaments on some of his golf courses. But right now, the top players on the PGA Tour have been thumbing their nose at this Saudi proposal, except for Phil Mickelson until today–maybe.
Phil issued prepared remarks in the form of a 550-word apology. In it, he refers mostly to a lengthy interview he gave Alan Shipnuck who is the author of the soon-to-be-released book entitled Phil: The Rip-Roaring (and Unauthorized!) Biography of Golf's Most Colorful Superstar.
Phil began his apology by saying, "Although it doesn't look this way now given my recent comments, my actions throughout this process have always been with the interest of golf, my peers, sponsors, and fans." I would question that about his peers unless he only means the top superstar pros.
Phil continued, "I used words I sincerely regret that do not reflect my true feelings or intentions. It was reckless, I offended people, and I am deeply sorry for my choice of words. I'm beyond disappointed and will make every effort to self-reflect and learn from this."
Much of Phil's prepared remarks are what we would expect from the talkative and rather charming Mickelson, who has been one of the golf fans' favorite players. That is, he said things that seem to reflect sincerity and humility. Yet I think he needed to apologize not just to his peers and fans but specifically to the PGA Tour, especially for saying the Tour is guilty of "obnoxious greed." I have not read his entire apology, so maybe he did that. As Brooks Koepka said in reaction that particular criticism of the PGA Tour, "I don't know if I'd use the word 'greedy' if I'm Phil."
Phil told Shipnuck that he, Phil, was one of the architects of this proposed SGL. Phil also criticized Shipnuck for releasing some of the statements he made to him. But Shipnuck says they did not have an "off-the-record" agreement about Mickelson's private revelations to him, and (I think) Phil knew he was writing a book about him. Phil claims otherwise, and Shipnuck says, "Mickelson simply called me up and opened a vein. To claim now that the comments were off-the-record is false and duplicitous."
Mickelson's main criticism had been how the PGA Tour exercises control of media rights, which Phil called "greed." He also had complained to Shipmuck that the PGA Tour favored its entire membership rather than catering more to the top pros like him. This complaint has always been one that a rare few superstars throughout the history of the Tour have lodged. But in my opinion, that is selfishness and greed. The PGA Tour cannot legally operated any other way but for the good of its entire membership rather than more so for an elite group. To do that the latter, the Tour would be sued by the bulk of the membership and most certainly lose. The PGA Tour has a good thing with the IRS, which always refused its request to set up a tax-free pension for the players until Commissioner Deane Beman got it approved in the 1980s. Since then, some members of Congress have criticized the IRS for allowing it, and for that reason the PGA Tour has always been aware of trying to do things right so as to keep the pension which has proved quite lucrative to the membership.
Phil also said in his prepared remarks, "I apologize for anything I said that was taken out of context." That, in my opinion, that is nonsensical. If anything he said was taken out of context, that is the person's fault who took Phil's remarks out of context, for which Mickelson cannot apologize.
Today, Mickelson's main corporate sponsor, KPMG, announced that the company had ended its association with Lefty. And Phil concluded his apology by saying he will now take some time off from playing professional golf to "work on being the man I want to be." Now, that's the Phil Mickelson we know and appreciate.