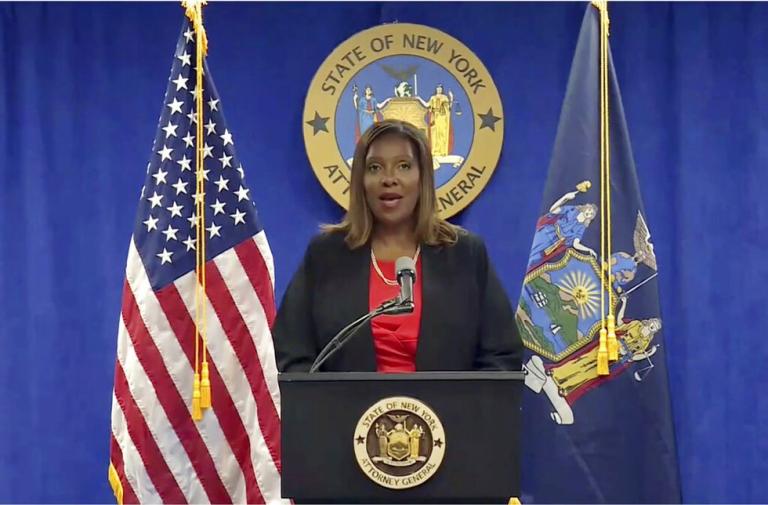 Former President Donald Trump, some of his family members, and his Trump Organization have been under investigation for over a year by New York Attorney General Letitia James and her office. In May last year, her civil investigation was joined together with the criminal fraud investigation of Trump and his Trump Organization that had been going on much longer by the Manhattan District Attorney's Office under the auspices of the U.S. Department of Justice. The latter investigation had been initiated by Manhattan District Attorney Cyrus R. Vance, Jr. He retired at the end of last year to be succeeded by Alvin Bragg.
Republican Trump is also under criminal investigation by the Fulton County District Attorney Fanni Willis in the State of Georgia for Trump's alleged effort to overturn the 2020 presidential election vote count in Georgia. Trump did it mostly with his phone call to Georgia's Secretary of State Brad Raffensperger, a Republican, in which Trump pressured the secretary by telling him, "What I want to do is this. I just want to find 11,780 votes" more than the 11,779 vote margin by which Biden defeated Trump.
Well, guess what! James, Bragg, and Willis are black folks, and Trump is now playing the race card against them since his rally speech at Conroe, Texas, last Sunday. Plus, James has subpoenaed Trump and three of his adult children. Trump then sued James' office on Wednesday, accusing her of political bias and therefore asking the court that her investigation be dismissed. His suit alleges correctly that James made public statements in her political campaign for the attorney general position in which she said that if she won the position, she would pursue a civil investigation of Donald Trump and his Trump Organization for financial fraud. Trump claims in his lawsuit that because of this James bias against him, her investigation should be disallowed.
Well, everyone is entitled to their own opinion and the right to publicly express it as James did about Trump. But that should not disqualify her from rightly performing her duties to uphold the laws of the State of New York. People can be biased and still conduct an investigation and prosecution of wrongdoing in a just and fair manner.
Donald Trump should read the book of Job in the Bible. This example of wisdom literature begins by relating a supposedly true incident that occurred in heaven during the lifetime of the rich and righteous man named Job who lived on the earth.
The Bible says in Job 1.6-12 NIV), "One day the angels came to present themselves before the LORD [read Yahweh for YHWH], and Satan also came with them. The LORD said to Satan, 'Where have you come from?'
"Satan answered the LORD, 'From roaming through the earth and going back and forth in it.'
"Then the LORD said to Satan, 'Have you considered my servant Job? There is no one on earth like him; he is blameless and upright, a man who fears God and shuns evil.'
"'Does Job fear God for nothing?' Satan replied. 'Have you not put a hedge around him and his household and everything he has? You have blessed the work of his hands, so that his flocks and his herds are spread throughout the land. But stretch out your hand and and strike everything he has, and he will surely curse you to your face.'
"The LORD said to Satan, 'Very well, then, everything he has is in your hands, but on the man himself do lay a finger.'
"Then Satan went out from the presence of the LORD" to make Job suffer. Many people know this story. In one day, Satan sent multiple calamities upon Job in which his animals were stolen and his servants and seven adult children were killed (Job 1.13-19). Yet wise and righteous Job exclaimed in the midst of his grief, "Naked I came from my mother's womb, and naked I will depart. The LORD gave and the LORD has taken away; may the name of the LORD be praised" (v. 21).
Then we read that the same thing happened another time, in which the angels gathered before God and Satan was among them (Job 2.1). Job then suffered from Satan again, who "afflicted Job with painful sores from the soles of his feet to the top of his head" (v. 7). As if that wasn't bad enough, Job's wife then said to him, "'Are you still holding on to your integrity? Curse God and die!' He replied, 'You are talking like a foolish woman. Shall we accept good from God, and not trouble?' In all this, Job did not sin in what he said" (vv. 9-10).
The lengthy book of Job then consists mostly of dialogue between him and his three friends in which they philosophy about God and human suffering, which is quite a trip on theodicy–the effort to reconcile human suffering with a just, righteous, and loving God. The end of the story is that God blessed Job with even more than he had before.
So, it appears from these two biblical accounts that angels meet with God at certain prescribed times to discuss certain matters. Some of these discussions involve Satan and his accusations against God's people on earth. This concept is further informed in the book of Revelation. In Revelation 12.7-10 we read about God's commander of his angelic armies in heaven, who is Michael the archangel, "And there was war in heaven. Michael and his angels fought against the dragon, and the dragon and his angels fought back. But he was not strong enough, and they lost their place in heaven. The great dragon was hurled down–that ancient serpent called the devil or Satan, who leads the whole world astray. He was hurled to the earth, and his angels with him.
"Then I [John the author] heard a loud in heaven say, 'Now have come the salvation and the power and the kingdom of our God, and the authority of his Christ. For accuser of our brothers [humans], who accuses them before our God day and night, has been hurled down."
Many Bible interpreters, especially Roman Catholics, have interpreted this account in Rev 12.7-10 as having happened in the distant past, perhaps during the time of Jesus' life on earth. But I think this interpretation isn't correct because it takes the text out of its context, which is that toward the end of the age, about 3.5 years before the end, there will be an actual war in heaven between God's angels and Satan's angels. Satan and his angels will be defeated, no longer having their dwelling place in heaven, and will be cast down to earth. Then begins what Jesus called "the great tribulation" which the apocalyptic book of Daniel tells much about. Accordingly, Satan has always come before God in heaven to bring accusations against God's people on earth, and this will continue until a most dramatic event of war in heaven that results in Satan and his forces being expelled to earth about 3.5 years before the end of this age and therefore the beginning of the glorious world-to-come, in which the worldwide kingdom of God will spread throughout the entire earth.
Incidentally, Satan is not the devil's name; rather, it is one of his titles. The word satan in the Hebrew Old Testament and satanas in the Greek New Testament mean the same thing: "adversary." Many biblical scholars explain that it indicates when Satan appears before God in such angelic gatherings as described in Job 1-2 and portrayed in Rev 12.10, Satan is like a prosecuting attorney on earth.
Therefore, if God allows the chief prosecuting attorney in heaven, Satan–who is biased against God, his angels, and his people earth–to appear before him in heaven to bring accusations against God's people on earth, surely it should be permissible for New York State's Attorney General Letitia James–a prosecuting attorney who is likely biased against Donald Trump–to appear before the courts of New York to bring charges against Mr. Trump, perhaps his children, and his Trump Organization.