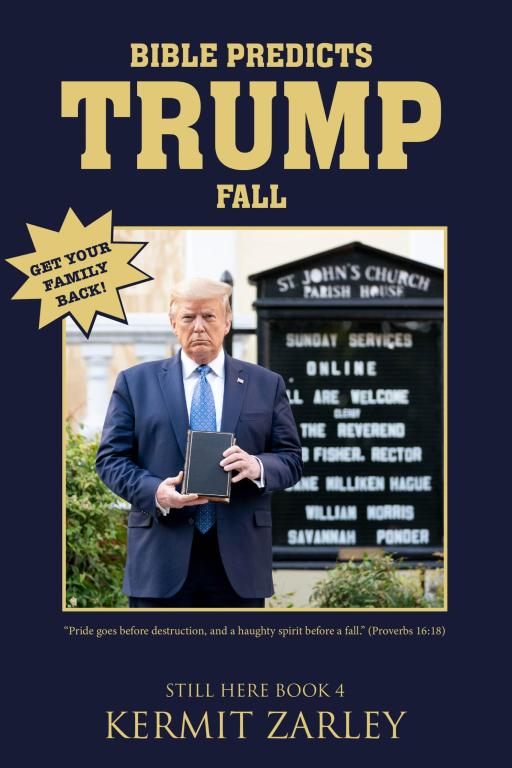 Donald Trump sometimes talks publicly about himself in the third person. For example, while he was the U.S. president,Trump once said publicly. "There's never been a president like President Trump."
Well, folks, I would NOT disagree with that! Of course, there likely was a context in which he said that, but I don't know what it was. He probably was bragging about being a great president, which he often did and still does.
Another such self talk by President Trump was, "Nobody's been tougher on Russia than Donald Trump." That probably was said in answer to a question about why he favored Russia and its president, Vladimir Putin, so much.
Since being president, many have mocked Trump unmercifully about this peculiar habit. But apparently, The Donald has been speaking publicly of himself in the third person much of his life. For instance, because he owned the Miss Universe Pageant for a few years and chose its finalists, in 2009 he said of that selection process, "In the old days you got what you got. Now, Trump picks them. It makes a big difference."
Trump's third person self-talk is a quirk that is not peculiar only to him. The medical term for it is illeism. (Ille means "he" in Latin.) This phenomena has been documented since antiquity. Perhaps the most prominent person known from back then who practiced this bazaar oddity was Julius Caesar.
Talking about oneself in the third person can be a sign of demon influence or demon possession. In our modern, scientific age, the existence of demons has been much repudiated. But in very recent times, called "post-modernity," this denial about the existence of demons and therefore their influence on humans has been losing ground.
The Roman Catholic Church has always believed in the phenomena called "demon possession," and it has always had priests who specialized in exorcised demons. Much of the phenomena with which such church leaders have struggled cannot be satisfactorily explained by modern science. Pentecostals also have practiced exorcism. I'm not saying that I would approve of all that these people do in such a ministry. But I do believe that our world is no different than that of the time of Jesus, when the New Testament says clearly that he sometimes cast demons out of people.
Jesus of Nazareth, the most famous human being the world has ever seen, was many things, including an exorcist. Yes, the New Testament gospels have several narratives about Jesus casting a demon or demons out of people. When it happened, it was like a healing, in which the person had changed drastically from being out of control to being calm in spirit and of sound mind. Sometimes when this occurred, Jesus and the demon conversed. In such cases, the demon must be regarded as a separate personality from the human victim. And when that would happen, the demon could have spoken of the possessed human in the third person.
The concept of demon possession and demon influence have been believed in many religions throughout human history. I do believe in the existence of demons. They are spirit beings, perhaps angels, who are likely under the control of the one whom the Bible calls "that ancient serpent [referring to Genesis 3], who is called the Devil and Satan" (Revelation 12.9 NRSV).
The Bible constantly portrays a conflict going on earth, but also in heaven, between good and evil, between God and Satan, and between God's angels and Satan's angels (e.g., Revelation 12.7-9). Yes, Satan also has angels, meaning that he is chief over them. This concept is the foremost of all dualistic world views.
The apostle Paul has the foremost, single verse in the Bible that provides the most insight into this conflict. He writes in Ephesians 6.12, "For our struggle is not against enemies of blood and flesh, but against the rulers, against the authorities, against the cosmic powers of this present darkness, against the spiritual forces of evil in the heavenly places." Paul exhorts his readers to "stand against the wiles of the devil" with "the shield of faith" and "the sword of the Spirit, which is the word of God. Pray in the Spirit at all times in every prayer and supplication" (vv. 11, 16-18). Those rulers and authorities refer to the hierarchy of Satan's angelic kingdom.
Yes, Satan has a kingdom of spirit beings who, in nature and character, are like himself. Jesus sometimes spoke of it. For instance, Jesus' interlocutors once said of his exorcisms, "'He has Beelzebul," a name for Satan, "and by the ruler of demons he casts out demons.' And he [Jesus] called them to him, and spoke in parables, 'How can Satan cast out Satan? If a kingdom is divided against itself, that kingdom cannot stand'" (Mark 3.22-24). Thus, Jesus was referring to Satan's kingdom of demons.
The apostle Peter writes to his readers, "keep alert. Like a roaring lion your adversary the devil prowls around, looking for someone to devour. Resist him, steadfast in your faith" and "the God of all grace . . . will himself restore, support, strengthen, and establish you. To him be the power forever and ever. Amen" (1 Peter 5.8-11).
I say all of this only to affirm that demon possession and demon influence exist in our world, and such vile, spirit beings go about seeking whom they may control in order to accomplish their evil designs. Is it possible that Donald Trump has been so influenced and that sometimes speaking in the third person of himself is a sign of that? I don't know, but I think it's worth considering.