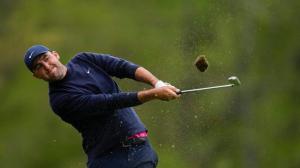 Scottie Scheffler continued to be the hottest player on the PGA Tour this year by shooting a five-under par 67 today to take a five-stroke lead halfway through The Masters Tournament. His eight-under par 136 total ties a tournament record. Scottie is only twenty-five years old, and he attended the University of Texas.
Four players are tied for second: defending champion Hideki Matsuyama of Japan, Charl Schwartzel of South Africa, Ireland's Shane Lowry, and Sungjae Im of South Korea. All of these players compete on the PGA Tour full time. It just shows how the best pro golfers are from just about all over the world, except Russia and China.
Tiger Woods continues to amaze after his near-fatal car accident 13 plus months ago by shooting a 74 to safely make the 36-hole cut. He is in 19th place. Tiger had a shaky start today, being four over par after five holes. He recovered nicely, getting back to even par, but still added some more bogies.
The weather was gnarly as expected, with gusts of wind exceeding 20 miles per hour. Augusta National Golf Course can be treacherous in windy conditions. The hilly terrain and many tall pine trees make it difficult to judge how to play the wind on iron shots to the greens. I don't think I've ever played a golf course that is more difficult in the wind, especially the short par-three 12th hole.
The last time Tiger played the Masters–17 months ago because the tournament had to be rescheduled due to the COVID-19 pandemic–Tiger had an outside chance to contend on the back nine on Sunday. But that little 12th hole grabbed the superstar and made him look like a duffer, depositing two balls into Rae's Creek to finish with a ten. (To show how embarrassing that was for Tiger, the largest score I ever made on any hole in some 700 tournaments I played on the regular PGA Tour and its Champions Tour was an eight one time in the U.S. Open on the par five 14th hole at Pebble Beach.) Yet Tiger, ever the competitor, went five under par his next six holes to redeem himself that day.
Today, the wind was swirling on the 12th, and Tiger sailed his shot way over the green to make a bogey. He parred the finishing holes to stay in town for the weekend. As for his chances of winning a green jacket this week, it's about slim to impossible even though he is only four strokes back of second place. The way Scottie Sheffler is golfing his ball so far, it looks like everybody else is playing for second this week. However, at The Masters, with such interesting design of some of those holes on the back nine, and especially with Amen Corner lurking (10th through 12th holes), anything can happen at The Masters.