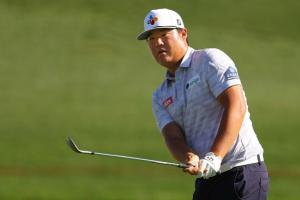 South Korea's steady and slow-swinging Sungjae Im shot a five-under par 67 yesterday to take a one-stroke lead over Cameron Smith at The Masters, the first of the four majors in professional golf throughout the year. Smith, one of the hottest players on the PGA Tour, had a bookends round, with a double bogie six on the first and last hole.
All Masters patron eyes were on superstar Tiger Woods as he made his debut since surviving a near-fatal car crash over thirteen months ago in which he almost had to have his right leg amputated. the Tiger made himself proud by posting a scrambling, one-under par 71 in his initial return to competitive golf. The forty-six year old has a slight limp in his walk to prove it. Sometimes, a grimacing look on his face suggest that he may still have some pain while walking or standing. But he says he is fine swinging the golf club. And he says he believes he can still win this tournament. If he did, it would be such a great comeback in pro golf, comparable to that of Ben Hogan.
Augusta, Georgia, had heavy rains earlier this week which softened the turf, making greens hold the irons shots. But the wind picked up yesterday afternoon, which dries out the course. Gusty wind conditions are predicted for today, which could make the game at the famed Augusta National Golf Club very interesting if not frustrating for the contestants. Today is cut day, when the field will be whittled down to 50 players and ties after two rounds. But it's not like regular PGA Tour tournaments, in which a lot more players begin the tournament, about 150, and miss the cut on Friday. Only about 90 players compete at The Masters on Thursday and Friday.