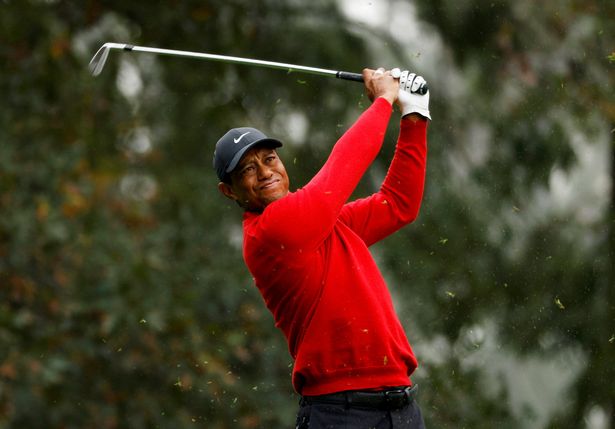 Five-time Masters winner Tiger Woods reportedly arrived at Augusta National today to further prepare to play in the Masters this week. He played a practice round there last Tuesday with his 11-year old son Charlie. Tiger said he will not make the decision on whether or not to compete this week until perhaps the very last moment, either Wednesday evening or even Thursday morning before his scheduled first round.
Tiger Woods last won The Masters in 2019 in one of most dramatic comebacks in professional golf history. Besides his five left knee surgeries spaced throughout his career, he had been out of action a lot due to his fourth and then fifth orthopedic surgeries on his low back. That is the part of the body that experiences the most stress in the golf swing. It has caused many golfers who have played lots of golf in their lives to refer to their "golfers' back." But what Tiger may now to be trying to do will make that comeback look like almost nothing if he were to win The Masters again.
Tiger Woods had a near fatal auto accident just over one year ago, on February 23rd, while he was driving that almost took his life. He was driving alone one morning in a hilly neighborhood in the greater Los Angeles area on a twisty road when his SUV, which reportedly was severely exceeding the speed limit, failed to make a turn and catapulted off the road, overturned multiple times, and crashed into a tree. Tiger afterwards said he had no recollection, no memory, of what happened. Perhaps that was due solely to the severity of his injuries. When rescuers and police arrived, they had to saw a metal part of the vehicle apart in order to even get Tiger out of it.
When they got Tiger to the hospital, the doctors' prognosis was quite gloomy. He had multiple fractures, and they would have to do multiple operations. But they added that there was about a 50/50 chance they would have to amputate his right leg. That decision was pretty much up to Tiger, and he, of course, elected to keep his leg. His 14-year old daughter Sam gave a tremendous speech weeks ago at Tiger's induction into the Golf Hall of Fame, and she said that they, meaning his immediate family, didn't know if Tiger would be coming home to Florida with two legs or one.
Tiger did play in a non-PGA Tour golf tournament with his son Charlie last December as his first event. But it was on the flatland of Florida, and he rode a cart. Tiger has been saying that he is trying to recuperate with the goal of still competing on the PGA Tour with a very limited schedule. But he admits that he doesn't know if his leg will be able to hold up to it. He said it's mostly wether or not he can walk eighteen holes. In that tournament, which was televised, I thought Tiger's swing looked magnificent.
When Tiger started the PGA Tour, which he took by storm, winning the 1997 Masters by breaking all kinds of records, I thought Tiger had the best golf swing I had ever seen. But Tiger had a different approach than that of Jack Nicklaus, who Tiger has been trying to catch and overtake in majors won, with Jack being #1 with 18 major wins and Tiger #2 with 15 major wins. But Tiger tried different swing coaches, changing his swing, and he lost it, especially with swing instructor Hank Haney, who I never thought was a good instructor of pros. Tiger had made a huge mistake by getting crossways with his previous swing coach, Butch Harmon, who has been rated #1 in the world for many years and with which I quite agree. (I've known Butch since way before he got famous. He used to be a club pro at a small muni course near where I lived, and our kids went to the same high school.) So, Tiger lost his swing with Hank, but now has it back. Actually, I don't think Tiger Woods ever needed a swing instructor.
So, the main thing holding Tiger back right now from announcing that he will compete in The Masters this week is whether or not he can walk the golf course all right. He surely played his practice round there last week mostly to see if his right leg can take the hilly terrain of that golf course. It's not like playing golf in the flatland of south Florida, where Tiger lives.
Tiger's survival from this SUV crash last year was right away compared by many in the golf world to Ben Hogan's head-on car crash back in 1949. During fog, his car struck a Greyhound bus head-on that almost ended his life. He, too, had multiple broken bones and needed surgery. It was his left knee that was most problematic.
(I've blogged multiple times about when I played with Ben Hogan in his last PGA Tour tournament, which was the Houston Open. We were paired together the first two round with Charles Coody. Ben wrenched his troublesome knee in the second round and had to quit.)
If Tiger Woods plays this week in The Masters, the golf world will be comparing him even more to Ben Hogan and his comeback from a car crash. But if Tiger ever wins a major again, they will REALLY compare it even more to the greatest ball striker of all time–the great Ben Hogan.