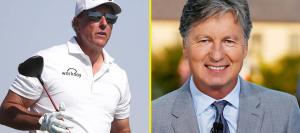 Brandel Chamblee, a friend of mine, has blasted unmercifully the leading American pro golfers who participated in the first LIV Golf event last weekend in London. Phil Mickelson, Dustin Johnson, and Bryson DeChambeau are the three highest-ranked American pros who have joined LIV Golf. Johnson and Mickelson played in that event last weekend. DeChambeau is scheduled to play the next LIV Golf event in Portland, Oregon, late this month.
PGA Tour Commissioner Jay Monahan suspended all 17 members of the PGA Tour who participated in the LIV Golf event last weekend in London. The reason was that he had not granted them a release to participate, which is required by Tour bylaws, and therefore suspended them indefinitely. A PGA Tour player cannot play in a foreign golf event that is held the same week as a PGA Tour tournament without getting a release. The PGA Tour's Canadian Open was last week.
One criticism Monahan made today about LIV Golf was that it has events (I don't call them "tournaments" because they have a different format with only 48 players) lined up that are scheduled in the U.S. No foreign golf tour, such as the European Tour or Asian Tour, has ever held any of its tournaments in the U.S., as if competing on the PGA Tour's home turf. The last LIV Golf event this year, its 8th, will be in October at Doral Trump Miami, which is owned by former U.S. President Donald Trump.
Avid golfer Trump, as might have been expected, has sounded off by criticizing the PGA Tour for moving its fifty-plus year old tournament from Doral. More recently, Trump has criticized the PGA Tour for taking an opposing position to LIV Golf. Of course, Trump praised Saudi Arabia due to its wealth and went there as president.
Brandel Chamblee is a former PGA Tour player who won one tournament. He has been working for the Golf Channel since 2004. He is a studio analyst who is very knowledgeable about golf, has gained a reputation for articulating it, and is a good golf swing analyst. Adam Schupak has written an article published by Golfweek yesterday entitled "Brandel Chamblee isn't pulling punches when it comes to LIV Golf, Phil Mickelson or sportswashing." For all those fans of pro golf, this is worth a read.
Maybe you recall that Adam Schupak is the golf writer who wrote the book published this year about Phil Mickelson divulging his secret proclivities toward the PGA Tour, the Saudi Arabian political regime, and the Saudi-backed LIV Golf league entitled Phil: The Rip-Roaring Biography of Golf's Most Colorful Superstar.
The Saudi regime, headed by Crown Prince Mohammed bin Salman, a.k.a. MBS, has an unsavory record about human rights. But the main criticism of the nation's leadership has been the assassination of world class journalist Jamal Khashoggi, which our CIA claims was order by MBS himself due to Khashoggi's critical remarks he had published about the Crown Prince. The dissident was a natural-born Saudi citizen who moved to Washington D.C. for fear of his life and lived there two years working for the The Washington Post until his grotesque demise, in which he body was dismembered in the Saudi consulate in Turkey after being falsely lured there by the Saudi government.
Due to this despicable reputation of MBS and other Saudi leaders, they have been trying to rehabilitate Saudi Arabia's reputation, especially by using sports, which is being called "sportswashing."
Brandel made his blistering recently on the Golf Channel's program "Live from the U.S. Open." He remarks were lengthy. Here is one comment, referring to the LIV Golf event as it was being played, "This is one of the saddest days in the history of golf. Watching these players come together for money and show to the world … they are showing us that they are the greediest, most self-serving, self-interested, willfully blind players in the world of golf today."
Brandel had prefaced this remark by comparing pro golf stars with other star pro athletes and telling that LIV Golf has guaranteed Mickelson $200 million besides whatever prize money he will make in the golf events themselves. It has also been reported that they offered Tiger Woods something that may have been close to a billion dollars guaranteed upfront. Tiger acknowledged the offer, not the amount, and turned it down. He has explained like other top pros have, that he's sticking with the legacy, history, fan base, etc. of the PGA Tour.
I think Brandel professes to be a Christian. He also blasted Bryson DeChambeau, the 2020 U.S. Open champion by saying of him, "More recently, he's been talking about how he's found God and become a Christian and I just wonder how he squares accepting money from a regime that is anti-Christian. You can't pull a Bible out in Riyadh without going to jail. They are misogynistic, they are anti-Semitic, there's no freedom of speech. He talks about his charities, about going home to do things, but meanwhile he's taking money from people who oppress the things he purports to stand for, which is philanthropic enterprises. That's where the money is coming from. He says he'll have a new legacy. He absolutely will have a new legacy, and it will be tarnished as a 100-year-old silver trophy that has been untouched up in a closet."
Some of these rebel LIV Golf pros are competing in the U.S. Open this week. The media is questioning them about their decision to join LIV Golf. The questions can be brutal, and it is causing these pros to try to defend their decision. Some of these guys, such as especially Dustin Johnson and Mickelson, had multiple corporate sponsors that dropped them like a lead potato when they announced their affiliation with LIV Golf. Thus, corporate America foresees that LIV Golf is going to not only be disruptive to professional golf but tarnish its reputation somewhat due to this Saudi association.
Like I've said before, this looks very much like it is headed for court.