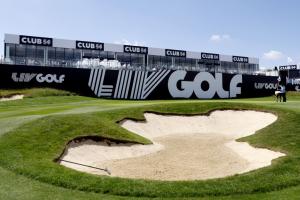 Thirty minutes after the Saudi-backed LIV Golf Invitational Series began it first tournament today, PGA Tour Commissioner Jay Monahan made an announcement that 17 of its participants, the only members of the PGA Tour who competing in that event, were "no longer eligible to participate" in PGA Tour tournaments. He did not say anything about a time period.
LIV Golf immediately shot back concerning it, "Today's announcement by the PGA Tour is vindictive and it deepens the divide between the Tour and its members." IMO, that is a non-sensical allegation. The PGA Tour is pretty much its members, and it is the majority of its members who are behind this statement and therefore made it possible. It is because Commissioner Monahan is simply a hired personnel, just like in the American pro sports. His job is simply to implement policy set by the Tournament Policy Board, which has four player-members.
One is four-time major champion Rory McIlroy, of Ireland, who has been #1 in Official World Golf Rankings in the near past. Rory, who has been vocally against LIV Golf, soon responded by saying of the commissioner's announcement, "I think he's done the right thing because these guys have broken rules and done things outside of tournament regulations. Because of that there is going to be consequences." Rory is one of the four player-members of the Tournament Policy Board. Well before this controversy erupted recently, Rory has been gaining a reputation for wisdom in speaking out on many matters related to professional golf.
Several of those 17 participants in LIV Golf today who are PGA Tour members have in recent days resigned their membership. One American citizen, who is a two-time major champion and recent #1 player worldwide, is Dustin Johnson. Another is Kevin Na. But most are foreign-born members who are older than the average age PGA Tour member, such as Graeme McDowell, Lee Westwood, Sergio Garcia, Louis Oosthuizen, and Cahrl Schwartzel. Ian Poulter of the UK said he will "appeal" the decision.
One of the 17 Tour members seemingly suspended is six-time major champion Phil Mickelson, also an American. It looks like he could be involved in a lawsuit with the PGA Tour since he did not resign. However, his situation is different since only he is a lifetime member on the basis of his long and illustrious career. Phil responded, "I didn't resign my membership because I don't feel I have done anything wrong."