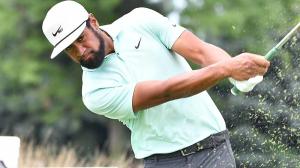 Co-leader Tony Finau shot a five-under par 67 today to win the Rocket Mortgage Challenge by five strokes with a 26-under par 262 at the Detroit Golf Club. It was his second consecutive win on the PGA Tour to give the Salt Lake City native with Tongan-Samoan heritagea a total of four wins. Three players tied for second: Taylor Pentrith, Patrick Cantlay, and Cameron Young.
Young said, "It wasn't that close. Tony put on a show." Indeed, Finau posted the third best number in Greens-In-Regulation since 1980 on the PGA Tour, which was 66 greens hit in regulation for 72 holes. That's golfing your ball, folks.
I've said it several times on my blog that for years, now, Tony Finau is one of my favorite players on the PGA Tour, a guy who could bust out into the limelight at any time if he just thinks of himself as one of the best out there. He makes the game look so easy with those long arms and big hands, and he swings like he's holding back 20-30 percent of his power off the tee. When he swings the club, he never ever goes over the top, which is one of the worst of swing errors that many golfers make, sometimes even the pros.
Next week, the Wyndam Championship in North Carolina will be the end of the PGA Tour regular season, with the FedEx Playoffs beginning right after that.