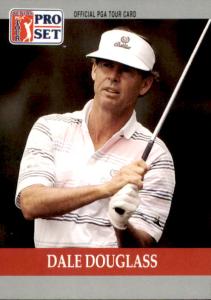 Dale Douglass died last month at the age of 86. During my PGA Tour career, Dale was Douglass about the nicest guy on the Tour. I'd say it was a toss-up between Dale and Al Geiberger, with maybe Gene Littler close behind. Never a bad word was ever said about these three pros, and all of them were outstanding players.
Dale Douglass was well liked and respected by his peers and fans. And he sometimes served on the PGA Tour's Policy Board to help direct our profession. Plus, Dale's wife, Joyce, who died in 2016 of PSP, was just as nice as Dale. They didn't have children, but their terrier Divot accompanied them often on Tour.
Dale Douglass was from Colorado and lived his later life in Arizona. He won three tournaments on the regular PGA Tour and eleven tournaments on the Senior/Champions Tour. Dale's best win was probably the U.S. Senior Open in 1986. (In the U.S. Senior Open at Cherry Hills, the top four finishers were all one stroke apart: Jack Nicklaus, Tom Weiskopf, me, and Dale Douglas.) Thus, Dale Douglas was one of those PGA Tour pros who faired better as a senior golfer.
During my 18 years of playing the regular PGA Tour full time, I may have been paired with Dale Douglas as much as any other player. That was largely because, since I also won three times on the regular Tour, we were in the same category which greatly affects pairings the first two rounds.
PGA Tour star Hale Irwin, Dale's best friend, can attest to how he was a joy to be with. Dale was truly a Mr. Nice Guy in a fun way.
For example, one time Dale Douglass and I were paired together the last round at Napa, California, on the Senior Tour. When we finished play, we sat down in the scoring tent to check and sign our scorecards. Even though I had just shot a good round, with a frown on my face, I complained to the scoring officials by saying, "It sure is dark in here. Is there any way we can get some light?" Dale looked at me, smiled, reached over, took off my sunglasses, and said, "Does that help?"