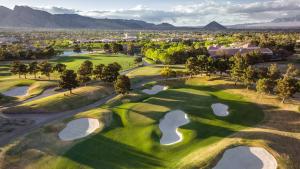 Twenty-year old, fledgling, pro golf star Tom Kim won his second PGA Tour tournament yesterday–the Shriners Children's Open at TPC Summerlin in Las Vegas by three strokes over the embarrassed, eight-time PGA Tour winner Patrick Cantlay because of a bad drive on the last hole.
Both players had started the day tied for the lead at 19-under par total. So, they were playing together in the last threesome. When they reached the 18th tee, they were still tied, well in front of the field, at five-under par for the day on the 71-par track. Cantlay drove first on the 434-year par four to the slightly elevated and blind fairway. But he went with a three metalwood rather than a driver.
On that hole, you must avoid missing left off the tee since that is some bad desert territory in somewhat of a gulley. Missing right of the fairway is just light rough and a small sand bunker that is not in play all that much.
Cantlay pull hooked his teeshot and it settled in a desert bush. Kim drove perfect, showing how tough he is under pressure for such a young guy.
Cantlay elected to try to hit the shot from the bush rather than take a drop with a penalty stroke. But when he swung at it, the ball did not go forward and when off to the right a little. Cantlay then took an unplayable. He then hit his fourth shot which splashed in the pond short and beside the green on the left.
Kim then wisely played to the safe side of the green with his short iron club, thus away from the water left of the green, leaving himself about a 40-50 foot putt for a birdie.
Meanwhile, Cantlay–the guy who has been gaining a reputation for having ice in veins since he has performed under pressure so well, and little emotion expressed–dropped a ball short of the green and pitched to about 30 feet from the hole.
Kim lagged his first putt close, putting this win in the bag.
Cantlay, who was looking at a likely two-putt for a snowman (an eight)–then slightly reddemed himself by holing his putt for a triple bogey seven. Tim tapped his par putt in to win by three strokes and lift another trophy with his infectious smile.
Folks, this kid is going places!