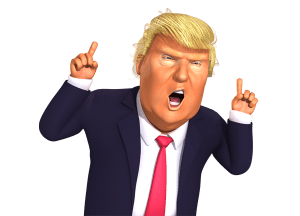 Former U.S. President Donald Trump has a history of making public remarks that most people consider anti-Semitic even though he has had close relations when some Jewish men, such as his lawyers Roy Cohn and Michael Cohen and son-in-law Jared Kushner.
Donald Trump attacked American Jews yesterday on his Truth Social platform. He said they "must get their act together before it's too late." Too later for what? Same ole' Donald Trump–his incoherent speech leaves his listeners guessing what he means.
Trump continued, "No President has done more for Israel than I have. Somewhat surprisingly, however, our wonderful Evangelicals are far more appreciative of this than the people of the Jewish faith, especially those living in the U.S."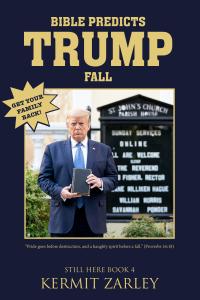 Trump has this nauseating habit of bragging about him being the greatest thing since sliced bread. In my book, Bible Predicts Trump Fall, I list 27 Trumpian sayings about it such as: "Nobody has more respect for women more than I do;" "nobody loves the Bible more than I do;" "I am very highly educated. I know words. I have the best words." Yet English authorities claim Trump has a vocabulary about 6th grade level.
Jonathan Greenblatt, CEO and national director of the Anti-Defamation League, said of Trump's anti-Semitic remarks yesterday, "We don't need the former president, who curries favor with extremists and antisemites, to lecture us about the US-Israel relationship. It is not about a quid pro quo; it rests on shared values and security interests. This 'Jewsplaining' is insulting and disgusting."
Today, White House spokesperson Karine Jean-Pierre said of those Trump remarks, "Donald Trump's comments were anti-Semitic, as you all know, and insulting both to Jews and our Israeli allies."
Trump thinks that, as U.S. president, he helped Israel so much. And he is popular in Israel. But I think he didn't help Israel so much. He abandoned the peace process with Palestinians and further hurt it terribly by moving the U.S. embassy in Israel from Tel Aviv to Jerusalem. I'm an evangelical, and most evangelicals have been dead wrong thinking that was good for Israel. The status of the U.S. embassy should have been part of a peace settlement.
Many people think Trump and Kushner improved relationships between Israel and Persian Gulf states with the Abraham Accords peace treaty. Maybe, but maybe not. Time will tell. It was very transactional. Trump promised the Saudis much military equipment and airplanes. And Kushner got bailed out by them from a loser Manhattan investment and a $2 billion investment in a mutual fund he created. This Israel-Arab state relationship has been detrimental to the Israeli-Palestinian conflict and thus that peace process.