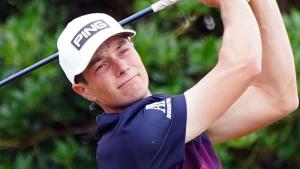 Norwegian Victor Hovland successfully defended his Hero World Challenge championship today in Nassau, Bahamas, by defeating his playing partner Scottie Scheffler by two strokes. This PGA Tour tournament is an "unofficial" event even though Hovland's one million dollar prize still banked well.
Hovland, who began the day with a three-stroke lead, gained three shots on Scheffler on the 8th and 9th holes to take a five-stroke lead at the turn. But that dwindled to a two-stroke lead on Scheffler when they came to the last hole in regulation play.
Hovland then had a rare mishap when his six-iron second shot bounced hard left into the greenside water hazard. Taking a one stroke penalty, he played a wedge for his fourth shot to 20-feet from the hole. Scheffler's second shot missed right of the green. He chipped to 10 feet.
If Hovland would have then missed his 20-footer and Scheffler made his 10-footer, the contest would have then gone to sudden death. But Hovland would have none of that when he holed his bogey putt to later lift the trophy.
Scheffler, the present Masters champion, has won four PGA tournaments this year to occupy the #1 position in the Official World Golf Ranking (OWGR) much of this year. He recently relinquished that treasured spot to the Irishman Rory McIlroy. Scheffler, who is now ranked #2, needed to win today to retake that coveted #1 OWGR position.
As for Hovland, he tied a Tiger Woods record set when the Tiger won this tournament two years in succession back in 2006 and 2007.
As for Tiger himself, he was scheduled to play in this tournament after missing competition for several months since he is still trying to recoup from his near-fatal SUV crash early this year. But he had to withdraw from the tournament early this week because he divulged that he has had two right foot surgeries due to a plantar fasciitis injury incurred from the accident.
But Tiger still expects to play two tournaments this month, including the PNC team Championship with his son Charlie that begins on December 15. Golf fans are looking forward to that. Tiger and 13-year old Charlie–who seems to be the spitting image of his legendary father–almost won it last year. Charlie has one of the best golf swings I've ever seen, perhaps second only to Tiger in his early years on the PGA Tour