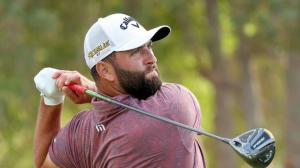 The swashbuckling, Spaniard Jon Rahm came from way behind today to win the PGA Tour's limited-field Sentry Tournament of Champions golf tournament at Kapalua, Maui, Hawaii by two strokes over Collin Morikawa, who collapsed in the closing holes.
After bogeying the first hole today, Rahm rallied to shoot a blazing ten-under par 63 while Morikawa lost his seven-stroke lead from the third hole to shoot a dismal  one-under par 72. It was a nightmare finish for Morikawa, who has connections to Hawaii including his grandparents having owned a restaurant on Maui for many years.
Both Jon Rahm and Collin Morikawa are major winners in pro golf and are among the very best pro golfers in the world. Rahm has held the #1 Official World Golf Ranking.
With nine holes to play today, Morikawa had a five-stroke lead on the field and looked like he couldn't lose. But Rahm, playing two groups in front of Morikawa, who was in the last pairing, birdied 12, 13, and 14 to make the contest a little more interesting to golf fans. Then Rahm dunked his 12-foot eagle putt on the par-five 15th hole to go five under par in four holes in succession. A minute later, Morikawa made his first bogey of the tournament, on the 14th hole, to fall into a tie with the bearded Spaniard.
On the par-five 15th hole, Morikawa hit his second shot to the edge of the green. But the ball rolled backwards and down the hill, leaving Collin about a forty-yard pitch to the green for his third shot. He then hit a chilly-dip, meaning he took a divot by hitting the ground behind the ball with his wedge. The ball did not overcome the uphill approach to the green and rolled right back near where he had just struck his embarrassing shot from. Collin then hit to the green and missed his 12-foot par putt to make a second bogey in succession. PGA Tour former star and television analyst Paul Azinger then said Collin has just bogeyed twice in succession on the two easiest holes on the golf course, giving Rahm a one stroke lead.
Both Rahm and Morikawa birdied the par-five 18th hole for Rahm to win by two strokes. It was great win for Rahm, who often appears he could dominate the PGA Tour if he can control his occasional temper flareups. But it was a very disheartening collapse for the well-liked Collin Morikawa.
Next week on the PGA Tour–the Sony Open at Waialea Country Club in Honolulu, Hawaii where I played many times on the PGA Tour. I always said you can't play bad golf or get mad on the golf course in Hawaii because that place is so beautiful that it makes you happy.