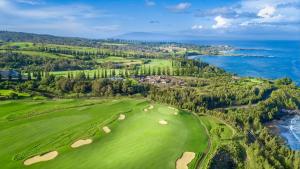 The PGA Tour started off the new year today with its first round of the Sentry Tournament of Champions for the 25th year at the Kapalua Plantation Course in Maui, Hawaii. Three co-leaders shot 9-under par 64s: Colin Morikawa, J. J. Spaun, and Jon Rahm. This special tournament consists of only 39 winners from last season's PGA Tour schedule.
My friends and golf analyst Brandel Chamblee was speaking on the Golf Channel's Golf Central program on TV today about Jon Rahm's potential to be the best pro golfer in the world and not quite achieving it. Yet he is close and has been #1 in Official World Golf Rankings temporarily. Rahm never had any top tens in last year's four majors, which is surprisingly poor for him.
Chamblee said the statistics show that Rahm excels in the category of driving and is pretty good at putting, but his weakness is iron play. Brandel then told about the great Ben Hogan, who Brandel likes to mention frequently because Hogan was without question the greatest ball striker of all time. Brandel said Hogan was once asked what are the most important clubs in the golf bag. He said Hogan answered, in this order: "driver, wedge, and putter." Brandel then said Hogan "could not have been more wrong." He explained that the stats show that iron play is the most important in shooting low scores.
That surprised me and probably a lot of viewers. But if Brandel is right, it looks like Valerie was right in her reply to her husband one time, who was the great Ben Hogan. Early in their marriage, thus during Hogan's early years on the PGA Tour, he complained to Valerie that the thing that was holding him back from being really successful in his career was his putting.
Hogan was well known for advocating that the scoring in golf be changed, so that a putt would count only half-a-stroke. Many of us pros have always chuckled about that and said, "If they did that, Hogan would have won every tournament he ever played in!"
So, when Ben complained to Valerie about his putting, she replied, "Well then, I guess you need to hit the ball closer to the hole." She obviously meant for him to hit his iron shots onto the green, closer to the hole.
Valerie's husband reportedly didn't like that comment. To us pros, it is pretty funny and would draw a laugh from most of us. It's because Hogan was known as being so precise in his shots to the green, that you just aren't supposed to say something like that to the greatest shotmaker the game has ever seen. But today, Brandel Chamblee backed up Mrs. Ben Hogan!