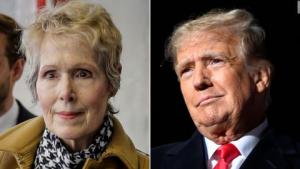 E. Jean Carroll, the retired columnist with Elle magazine, has two lawsuits against Donald Trump for defamation of character and rape. After much languishing regarding only one charge, on defamation, New York changed a law and both lawsuits are now proceeding swiftly in court, seemingly more in favor of Ms. Carroll now. Trump was deposed about it a few months ago, and the results were made public this week.
Ms. Carroll claims that Trump raped her in a New York City department store back in the mid-1990s. She never said anything public about it until Trump was president. He denied it, denied knowing her, and further defamed her by calling her claim "a hoax." When showed a photo of Carroll, Trump further said she was "not my type." Of course, that raises questions about what causes rape.
Throughout this ordeal, Trump has continued to say that Ms. Carroll was "not my type." He even said it during the deposition months ago. Then he was shown a photo Ms. Carroll and asked who it was. Trump immediately said, "That's Marla, yeah. That's my wife," referring to Marla Maples to whom he was married during the 1990s. "Not my type," eh Donald! Could that be used as evidence in a trial? I think so. What do you think?