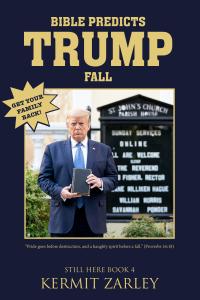 Early in Donald Trump's first campaign for the U.S. presidency, on January 23, 2016, he spoke at a Christian college–Dordt College in Sioux Center, Iowa–and exclaimed both jokingly and egotistically, "I could stand in the middle of Fifth Avenue and shoot somebody, and I wouldn't lose any voters, OK?" No, Donald, that was not okay then and it's still not okay now. But did we really listen?
The Mueller Report represented the special counsel Robert Mueller's examination of possible collusion between Russia and the Trump presidential campaign team in 2015-2016. The Report listed ten incidents in which Donald Trump may have committed obstruction of justice during his presidency. But the report concluded that the counsel did not have the authority to bring any such indictments against President Trump because of something the American voting public didn't know much about. It was a 1973 memorandum issued by the Office of Legal Counsel(OLC) which advises the U.S. president about legal matters. It reads, "The indictment or criminal prosecution of a sitting President would unconstitutionally undermine the capacity of the executive branch to perform its constitutionally assigned functions." This was further reviewed and approved in the year 2000.
This dictum means that a sitting president could commit any type of crime while in office–including first degree murder such as fatally shooting a person on Fifth Avenue in broad daylight as Donald Trump had said about not lose voters–and he could not be charged with a crime. Yet the very basis of our U.S. democracy is that no government official is above the law. That means that if first degree murder is a prosecutable crime for us voters, then it is a prosecutable crime for the political candidates running for office as well as any U.S. government official, including the president.
I was amazed when the Mueller Report was made public. Mueller must have known this OLC memorandum. Why, then, did this very respected former Director of the FBI take that job as special counsel if he could not charge President Trump with a crime? And what of the Congress, which decided on having such an examination and selected Mueller for the job? It seemed to me that this OLC restriction should have been at the very core of the discussion to have an examination of President Trump's campaign. That OLC memorandum was not the law of the land. That is, it had not been contested in court. Yet prosecutors only try cases they think they can win, so Mueller didn't think he could win any indictment involving obstruction of justice against President Trump simply because of this OLC memorandum.
And now we learn there has been another failure of our legal system, as I see it, regarding the alias Stormy Daniels lawsuit. Porn star Stephanie Clifford claimed she had a one night sexual tryst with Donald Trump back in about 2006 in Las Vegas, which, of course, Trump denied. Michael Cohen, Trump's personal lawyer at the time, claims that six weeks before the 2016 presidential election he paid Clifford off with $130,000, at Trump's direction, to keep silent about the affair. That is against U.S. election campaign laws and is punishable for up to five years in prison. Cohen eventually went to prison for this violation and others, while Cohen's former boss Donald Trump kept being the sitting president in the Oval Office. Daniels eventually brought a defamation lawsuit against President Trump for calling her a liar about the affair.
The failure in our legal system about this Clifford lawsuit is that the Manhattan District Attorney's office of New York discussed charging Trump in this Clifford lawsuit, but decided not to for two reason: (1) the 1973 OLC memorandum saying a sitting president cannot be charged for a crime, and (2) there were so many other examinations of Trump for criminal activity that were greater cases than the Clifford lawsuit.
Finally, during Donald Trump's 2015-2016 campaign for the U.S. presidency and during his presidency, he refused to make public any of his income tax returns even though all presidents for decades as done this. When Trump kept resisting about this, to me it was so obvious that he had something, perhaps a lot of something, to hide from the American public about his money dealings.
Donald Trump is now being charged by the State of New York, where Trump and his business were located, for stealing $250 million by inflating his net worth by illegally inflating his assets to get bank loans and lower insurance rates, yet deflating those same assets to pay less taxes, much of which New York Attorney General Letitia James says shows up in Trump's income tax returns.
One kind of guy says he could shoot someone as first degree murder on Fifth Avenue for everyone to see and not lose any of his friends? What type of a mindset could even think of that, let alone say it to a packed audience while campaigning for president? And why did a supposedly billionaire businessman who made much of his money owning big time gambling casinos refuse to reveal his income taxes. I think voters didn't listen to this guy. If all of those people who voted for Donald Trump in the 2016 presidential election would have known about that OLC memorandum and just realized he was covering stuff in his income tax returns, maybe he would not have become the 45th president of the United States of America and the worst president this 246-year old nation has ever had.