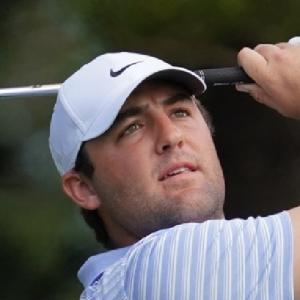 Today, Scottie Scheffler thrust himself back into the driver's seat of world professional golf as the hottest stick on the planet by winning the PGA Tour's marquee tournament–the Players Championship at The Stadium Course at TPC Sawgrass in Ponte Vedra, Florida. This 26-year old calm and collected Texas dude made it look pretty easy in winning by five strokes over Tyrrell Hatton to bank $4.5 million and lift the trophy.
Afterwards, Scottie explained about today's play, "I got hot in the middle of the round and tried to put things away as quickly as I can." Indeed, he didn't let the sometimes 30-mile-per-hour winds blow him into the ocean or allow the several treacherous H2O ponds bordering fairways and greens baptize any of his precious Titleist golf balls as happened to so many pros this week on the dangerous little 133-year 17th hole.
Scottie Scheffler was the PGA Tour's Player of Year in 2022. And today, he regained his #1 Official World Golf Ranking by wrenching that title back from the swashbuckling Spaniard Jon Rahm, who pulled out of the tournament this week due to injury.
In the past 13 months, Scottie Scheffler has taken the PGA Tour by storm in winning six of its scheduled tournaments that included his first major–the 2022 Masters Tournament–which is now not far away. At that time, he said in the press conference, "The reason why I play golf is, I am trying to glorify God and all that he's done in my life, and so for me, my identity isn't a golf score."
Scottie Scheffler was born in New Jersey, grew up in Dallas, Texas, and calls himself "a Christian." He has not indicated that he belongs to any certain church denomination. At that Masters press conference, a reporter asked Scottie if his religious faith had impacted him in winning the Masters. Scottie answered, "I mean my faith affects all aspects of my life, you know, not just not my life on the golf course. The Lord has given me a skill, and I'm trying to use it for his glory, and outside of that, I'm just trying to do my best."
Scheffler also revealed there at the Masters concerning his wife Meredith's prayers, "Every day when we go out there, Meredith always prays for peace because that's how I want to feel. When I'm out there on the golf course, I want to feel peace and have fun and just feel his presence. That's her prayer every day, and it's my prayer, and I just really felt that today."
Scottie also explained, "People a lot of times think, well, if you become a Christian, God's just going to make everything easy for you, and that's not the case. But having the God of the universe, the Creator, on your side just makes things a lot easier to deal with. And the principles of the Bible are something that, when you use them, you can see it manifest in your life."
Well said, Scottie Scheffler–again the #1 golfer in the world.