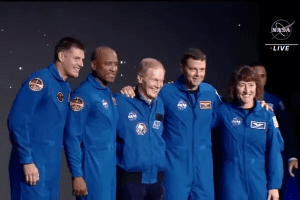 Today, NASA administrator and former U.S. Congressman Bill Nelson introduced for the first time the four astronauts who have been chosen to fly to the moon late next year in the first U.S. manned-moon mission in 50 years. The ceremony was conducted at a hangar at Ellington Field in South Houston, a few miles north of the Johnson Space Center. Ellington Field is three miles from my former home in Friendswood, Texas, where I lived for 25 years and raised my family of three children. And for about four years I was in the Air Force reserves and attended monthly reserves meetings at Ellington Field. At that time, I was in the early part of my golf career on the PGA Tour.
This moon mission is called Artemis II. The four astronauts are Christina Koch, Victor Glover, Reid Wiseman, and Canadian Jeremy Hansen. The mission Artemis I flew a rocket and capsule four months ago as an unmanned test that orbited the moon and returned. NASA's plans are to establish a base on the moon from which a manned space flight will go to Mars in the next decade.
Exciting times are ahead for the space industry as humans continue to explore God's creation. For the Bible begins, "In the beginning God created the heavens and the earth" (Genesis 1.1 NIV). It explains, "God made two great lights–the greater light to govern the day and the lesser light to govern the night. He also made the stars" (v. 16).