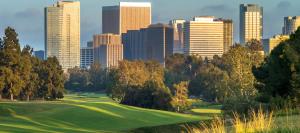 Long shot Wyndham Clark held on to his lead on the back nine today to win the U.S. Open in America's biggest city, at the elite Los Angeles Country Club in the City of Angels. It was most fitting for this Christian guy as he beat the best golfers in the world who were nipping at his heels down the stretch.
Clark started today tied for the lead with crowd favorite Rickie Fowler at 10 under par, with four-time major champ, and another crowd favorite, Irishman Rory McIlroy only one stroke back, at 9 under par. And there were other top players nearby, such as the world's #1 pro golfer Scottie Scheffler at seven under par.
Early in the back nine, Clark had a three stroke lead at 12-under par. Fowler had fallen back. McIlroy was playing his usual starring role of long drives and crisp iron shots onto the greens, but couldn't buy a putt. He's been doing that now for years and thus hasn't won another major championship for nine years even though he's often the #1 favorite expected to win.
Clark then made two bogeys on the 15th and 16th holes so that it was game-on between Clark and McIlroy, with Clark one stroke ahead. Clark then held on brilliantly in all that pressure against the best player, really, in the majors–Rory McIlroy. Clark got a bit of a break on the par four 17th when he hooked his iron left and still had a clear pitch shot, which he got up-and-down for his par. On the par four 18th hole, he then came off the ball with his swing on his drive, which is a common fault under pressure. Thus the ball flew to the right. But that 18th fairway, unlike the usual narrow fairways for U.S. Opens, is 58 years wide, so Clark's ball barely stayed in the fairway. He then hit a good second shot of 196 yards online to the pin and on the green, but sixty feet short. But he lag putted brilliantly under all that pressure to one foot from the hole for an easy tap-in par to win by one stroke.
Only then did Clark let loose with his emotions, and I mean let loose! He hugged his caddie so hard that I thought he might break a few of his ribs! Wyndham was fighting back the tears as so many people congratulated him, including his family. His older sister was there, and it was the first time she had seen Wyndham play on the PGA Tour.
So, Clark won at 10-under par 270 total. McIlroy was alone at second with 271. Scottie Scheffler was alone at third with 273. Cam Smith, last year's Open Championship winner, was along at fourth. Fowler was tied with Tommy Fleetwood at fifth. It was an exciting tournament that I don't think even nearby tinsel town, Hollywood, could have scripted any better.
Wyndham Clark is twenty-nine years old and from Denver, Colorado. That Denver is winning everything these days. The Denver Nuggets just won the NBA championship last week, their first in seventy-five years of trying.
The wikipedia article on Wyndham Clark says he attended Valor Christian High School in Highlands Ranch, Colorado. The article also says he is a Christian. In the presser after he won the tournament today, Clark spoke of "God's plan" for his life.
Also in the presser, Clark talked about being a "momma's boy." His mother had been a big inspiration to him growing up, calling him a "winner" and telling him to think "big." She battled cancer for about ten years and lost when Wyndham was a college student at nineteen years of age. He said it hurt him emotionally and made him angry, punching things and throwing golf clubs on the course. His golf coach told him he needed a break from golf. Instead, he switched schools from Oklahoma State to Oregon.
When Clark finally got on the PGA Tour, he went through a lot of frustration, he says, believing he was better than he was proving on course. His mother had told him he could be on the PGA Tour and use that platform as a testimony to his Christian faith.
(Christians are having quite an influence in professional golf, at least with the PGA Tour. As I posted yesterday, both Rickie Fowler and Scottie Scheffler are Christians who like to share their faith very openly. Scheffler has spoken publicly about this quite a bit in the past two years.)
Then last November, at the advice of others, Wyndham Clark sort of reluctantly hired a sports psychologist–Julie Elion. He says she has made all the difference in the world for him as a professional golfer. Indeed, he won his first PGA Tour tournament last month–the Wells Fargo Championship in Charlotte, North Carolina. But now, he's the reigning U.S. Open champ. It doesn't get any better than that!
I think Wyndham Clark is "the real deal," as they say today, and he's going to be a big contender for many PGA Tour tournaments to come. Congratulations Wyndham Clark.