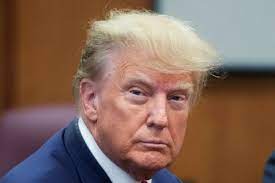 Last week, ex-President Donald Trump was arraigned in a federal courthouse in Washington, DC, for his third, and second federal, indictment. He was charged for four crimes of planning and instigating the overthrow of the U.S. government regarding its presidential election results in 2020. Trump is accused of trying, on January 6th, 2021, to prevent members of the U.S. Congress from certifying the election results, in which Trump lost and Joe Biden won. Some call this action treason, which is the exact opposite of Trump slogan Make America Great Again.
Donald Trump has a history of speaking out against prosecutors, judges, and perhaps witnesses in legal cases he has been involved in, of which there have been thousands. He has pushed the boundaries without ever being issued a court gag order and jailed. Now he's doing it again, more than ever.
During last week's arraignment of Trump in the J6 Capitol riot case, Magistrate Judge Moxila Upadhyaya told Trump and his lawyers, "it is a crime to intimidate a witness or retaliate against anyone for providing information about your case to the prosecution, or otherwise obstruct justice." Yet, the next day Trump wrote this public message on his Truth Social media account in full caps, "IF YOU GO AFTER ME, I'M COMING AFTER YOU."
Of course, this message was unspecific. But most reasonable people would conclude that, according to the circumstances and Trump's past behavior, he intended this pronouncement to intimidate people involved in the upcoming trial, which some experts are saying will be THE TRIAL OF THE CENTURY. Why? The maximum, total penalty for the four criminal counts that the DOJ's Special Counsel Jack Smith is charging Trump, a former U.S. president, with is 55 years in prison!
Today, Washington, DC, federal Judge Tanya S. Chutkan, who will oversee this trial, held a 90-minute meeting in the Federal District Court in Washington, DC, with Trump's lawyers to issue a protective order regarding discovery evidence being given them, which consists of over 11 million pages of investigation. She said, "I intend to ensure the orderly administration of justice in this case as I would in any other case." She added, "I caution you and your client to take special care in your public statements in this case," she added. "I will take whatever measures are necessary to protect the integrity of these proceedings."
But Trump has said this week that he will exercise his First Amendment rights, apparently meaning he will not abide by the protective order. And he will surely be doing this both on his Truth Social and in political rallies as he campaigns for the Republican nomination for president the subsequent 2024 presidential election.
Nick Akerman, former federal prosecutor who was involved in the Watergate hearings and assistant prosecutor in the U.S. Southern District of New York, had a op-ed piece in The Atlantic Wednesday entitled "Why Televising the Trump Trials Is a Bad Idea." Even though most Americans probably want the trial televised, he says it should not be because jurors and especially witnesses would not be protected. He says he was involved in prosecuting many Mafia and other organized crime cases, and those defendants sometimes would speak out publicly against witnesses and cause them to refuse to show up for the trial due to fear for their lives. Trump appears to be operating according to the Mafia's playbook.
Actually, Trump may even be exercising threatening rhetoric for the purpose of trying to force the court to issue a gag order for him or even imprison him before the trial. Why? He may think it would further gin up his Republican base of supporters. And he appears to be trying to divide the nation politically. I've been posting for a long time that I think Trump's main strategy is to do whatever he can to stay out of prison come hell or high water concerning the laws of the United States of America.
Because of this, it appears that the court(s) want to avoid issuing a gag order or jail time for Trump no matter what he says publicly about these legal matters. But the court would not give any other U.S. citizen a pass like that. Many experts are saying Judge Chutkan is in a difficult position. Trump may be pushing her to "lock him up" even before the trial begins.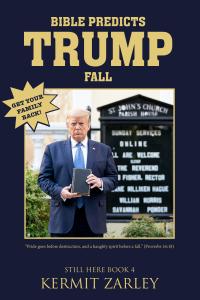 The more that Donald Trump's legal woes progress, the more my Trump book appears prescient. Entitled Bible Predicts Trump Fall, it relates that during Trump's presidency and his first campaign for it, I often posted on my blog wisdom literature verses in the Bible and applied them to Trump. They also were prophecies telling what happens to a person who acts like him. Examples were, "Pride goes before destruction, and a haughty spirit before a fall" (Proverbs 16.18). And I often said I had never seen such pride and lying as that exhibited by Donald Trump. Therefore, I posted on my blog on May 20, 2016, "I think Donald Trump is a big bag of hot air ready to blow up like the Hindenburg blimp if he become U,S. president." And I posted on July 21, 2018, "I think Trumpgate will make Watergate look like a Sunday school picnic."