The Bible doesn't mess around when it predicts the future. When Donald Trump was campaigning for the U.S. presidency in 2015-2-16, and then during his presidency in 2017-2021, I took a chance with my Kermit Zarley Blog, you might say, and began predicting what was going to happen to him due to his lying and braggadocious ways. I often quoted wisdom literature in the Bible, applied it to Trump, and thereby predicted he would have a miserable and embarrassing fall.
I had three main Bible texts I repeatedly cited in the following order. First, "Pride goes before destruction, and a haughty spirit before a fall" (Proverbs 16.18 NRSV). Second, "When pride comes, then comes disgrace" (Proverbs 11.2). And the third and most profound was by Jesus, which the New Testament gospels reveal he said the most often, "The last will be first, and the first will be last" (Matthew 20.16).
I blogged about 350 posts about Trump from the time he began campaigning for the presidency to the time of his second impeachment by the House only days after he vacated the White House. You could say I was obsessed with Trump as president. Why? All that time I strongly believed he was a threat to our democracy and that we all should speak up about it or we might lose it. In fact, I was saying it in my blog posts starting one week into Trump's presidency. On January 26, 2021, I wrote a post entitled, "Do Donald Trump and Steve Bannon Believe in Democracy?" My conclusion in this article was that they do not.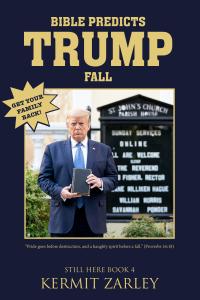 Soon after Trump's presidency, I collected 200 of these blog posts about Trump, averaging just over a page each, and made a book with a big introductory chapter about Trump's earlier life and career and then a conclusion chapter. I titled the book, Bible Predicts Trump Fall, now available at amazon.com. One reason I was taking a chance doing this is that I'm an evangelical Christian, and these folks had a lot to do with voting Trump into the White House. My Trump posts caused my blogging readership to decline about 50 per cent. And comments on these blog posts about Trump were mostly negative.
Former President Donald Trump has now been out of the White House for over two-and-a-half years. In the past four months, he has been indicted by grand juries for a total of 91 felony crimes (subject to prison time). Two of the cases have been issued by the federal Justice Department and the other two by the states of New York and Georgia. But it now appears that more indictments may be on the way.
Georgia's indictment is the most wide-reaching by including alleged crimes by several members of the Georgia Republican Party for creating fake electors with which to thwart our Electoral College system and prevent Joe Biden from becoming president even though he clearly defeated Trump in the vote count. But the most important case, by the Justice Department's allegations that Trump and allies tried to overthrow our government on January 6, 2021, also cites state fake electors. The Republican Party in five other swing states created its own slate of fake electors as well.
I live in one of those states–Arizona. State officials have now announced publicly that they have been investigating this effort at creating fake electors in Arizona. The prime suspect who is being investigated for this alleged conspiracy to criminally keep Donald Trump in the White House is Kelli Ward, chairwoman of the Arizona Republican Party. State investigators said today they are "moving aggressively" with this investigation. I wonder why!
Georgia has had a serious investigation into this matter for two-and-a-half years. And District Attorney Fani Willis of Fulton County, where Atlanta is located, has moved even more aggressively than the federal government with a RICO criminal charge, which is about "enterprise racketeering." These five other states where Republicans created fake electors therefore have been caught behind in comparison to Georgia and therefore probably feel the need to step-up-to-plate and deliver. If any of them they do, what I wrote in my blog on July 21, 2018, will become even more prescient–"I think Trumpgate will make Watergate look like a Sunday school picnic."