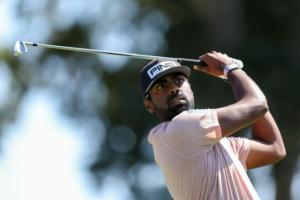 Twenty-five year old Sahith Theegala is one of my favorite young players on the PGA Tour. Just minutes ago, he won his first PGA Tour tournament, his 74th start. It was the Fortinet Championship at Silverado Resort's North Course in Napa, California. He shot a four-under par 68 to post a 21-under par total of 267 to win by three strokes over S. H. Kim, another buddying young star.
Theegala had a terrific rookie season in 2021. He finished 26th on the annual money list, barely missing winning rookie-of-the-year honors. He has been in the hunt on the final day in several Tour tournaments without winning. But today, he got it done.
As a former PGA Tour player full time for thirty years, I consider myself a golf swing analyst, and Mr. Theegala has a terrible golf swing! But the guy is such a good putter, with an overall terrific short game, and he can get out of trouble like Houdini.
Sahith is a feel player if ever there's been one. Man, would I like to be this guy's swing coach. But then, feel players sometimes don't care about how they look swinging a golf club, just how many–meaning all they care about is getting the ball in the hole. Well, you can't argue with that since that's the name of the game. Sahith has such a terrific attitude on the golf course, always being positive and calm, yet with enthusiasm. He is such a crowd favorite.
Sahith Threegala is of Indian descent. Both of his parents were born in India and migrated to the U.S. as adults. Sahith attended Pepperdine University, a Christian school, where he completed a graduate program. Both of parents reportedly practice Hindu.
[Note: Yours Truly and Mormon Billy Casper are the only PGA Tour players to have won PGA Tour tournaments on both the North Course and the South Course at Silverado in Napa. We didn't do much wine tasting to do that. A little known fact is that I think both of us were tee totalers when we had our first win there.]