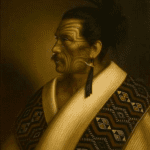 In November 2014 I was privileged  to be asked to be the closing speaker at the inaugural Mormon Studies Symposium hosted by Waikato University.  There we celebrated Selwyn Katene's edited book:  Turning the Hearts of the Children:  Early Maori Leaders in the Mormon Church. and together explored both the past and future of Mormonism for Maori.  It was a terrific event, one that I was pleased to be associated with.  I discovered recently that the Public Relations write up about this event left out any reference to my address.  I'm not surprised but still disappointed – because its rude and a bit silly. In response to a number of requests for this talk I include it here for your reading pleasure (or not – if you hail from the PR Department) 😉
Tena ra tatou katoa
Toku mihi tuatahi ki te Runga Rawa, me tona tamaiti aroha, ko to tatou kai whakaora, Ko Ihu Karaiti – Tena korua
Ki nga mate kei tua atu i te arai, haere e nga mate, haere, haere, haere
Ki te hau kainga, Tainui Waikato, tena koutou
Ki nga kai korero kua korerotia , he mihi aroha tenei ki a koutou katoa mo a koutou kupu whakapono, kupu ataahua tena koutou
Ki a koe Herewini, Selwyn, me ia kaituhi  –  He taonga te pukapuka nei
Tena koutou, tena koutou,
Ko Hikurangi te maunga
Ko Waiapu te awa
Ko Ngati Porou te iwi
Ko te Whanau a Ruataupare te hapu
Ko Hau Ruwhiu raua ko Te Here Taiapa oku tipuna matua
Ko Marie Colvin toku whaea
Ko Hemi Ruwhiu toku matua
E ki ana 'Ko te korero te kai a te rangatira'   Kua huihui mai tatou i tenei ra kei raro i te maru of Waikato Tainui hei korero hei whakamaumahara hoki ki a matou matua tupuna, a tatou rangatira.   Kua ki nga ngakau, kua whangaia nga wairua. Engari, i nga ra e heke mai nei, i nga ra i mua i a matou, ka aha? Ko wai tatou – te iwi Maori, Ngati Moromona e te tau rua mano, rima tekau?
It is my ominous privilege to address this heady topic in the spirit of prediction. Who will we be as Mormon and Maori in the year 2050?  No offense intended but looking at the age and state of most of us here today it won't be our pleasure to see this first hand. But while we won't be around a-tinana to see that day in, how our tamariki and our mokopuna experience the intersection between their whakapapa and their faith in 2050 is entirely up to each one of us i tenei ra.
Mormonism has always been a community of story telling. Our theology, our belief systems, our faith, our culture have always been bound up in stories, official and unofficial. We have a very predictable way of communicating our faith and testimony.   How many of us have prepared an exposition for sacrament based on a scripture, have quoted said scripture and then launched into a story which  may have nothing to do with the topic at hand.   A similar pattern can be seen in our ward councils with stories erupting spontaneously from, (particularly the older male participants) that bear little if no relationship to the agenda item.   Open up our church magazines, LDS.org, BYU-TV, a Mormon History Association Conference, go to social media or testimony meeting and you will see that Mormons transmit their theology, their belief systems in story.
We Mormons are story tellers.
And we Maori are story tellers as well. Our ancestors communicated their world in word imagery, the esoteric, the scientific, the spiritual, the sacred, the profane, the political, the cultural, the social and the ecological – our ancestor's ancient traditions were based upon the intergenerational transmission of community knowledge through stories that were all at the same time sophisticated, complex, soaring, powerful, beautiful, tragic and wonderful. Unfortunately as the vapors of colonization have descended upon they and us, that which held our way of being and knowing has been eroded. Our stories have been forever changed. Colonization has pecked away at an order that once made sense in terms of our language, our land, our sovereignty, and our tikanga    Who we once were as a people has been purposely, systemically and institutionally eroded. Thus, who, why, and what we communicated by way of story has incontrovertibly changed.
We cannot tell the Maori story or even the Mormon Maori story without considering the impact of colonization. To be colonized is not a neutral activity nor is it a benevolent activity. Perhaps there were some seductions in what Western civilization has to offer the compliant native, but these seductions have come historically at a high price, to mana, to the health of our people, to their sense of well being. I'm not telling you anything you don't already know, over the past 175 years – the broad story of tangata whenua echoes back the following topographies.
›Maori Social arrangements of New Zealand have been explicitly reorganised to fit colonisers.
›Maori land is the historical foundation of settler wealth. 360 acts of parliament specifically intended to acquire Maori land.
›Colonization has involved the de-legitimisation of traditional social systems, language, and has stripped Maori of kinship identity.
›Maori have been socially reconstituted as a group of people who were 'Other' to legitimize their unequal treatment.
›Maori have paid the Psycho-social cost of racist evaluative judgments and intergenerational poverty.
›Today we see that Maori suffer from inequality across all social indicators
These realities and incursions are central to our story as contemporary Tangata Whenua.  We cannot separate ourselves from these realities. Colonization is disastrous for indigenous peoples. In Aotearoa New Zealand the transplantation of Christianity can also be implicated in a 'civilising mission' that saw our tupuna perhaps relieved of the harsher aspects of tohungatanga and animism, but it has also come at a high cultural cost. Inasmuch as this is the case it behooves us as concerned intellectuals and scholars to consider Mormonism critically in this regard. I feel that we cannot give Mormonism a pass in terms of its colonizing effects simply because of our personal attachments to it. This is not to say that we use critique as a reason for disaffection and criticism rather it is to say, that in telling the hard stories in the intersection of the social and the religious, whakapapa and faith, race and culture we mature, we find a language that we can pass on to our tamariki to support them in their faith journeys, we hold the institution accountable, we give up naiveté in favour of consciousness, we become agentic and active as opposed to passive and docile, we can make corrections to our course so that the cyclic nature of colonization isn't repeated upon our children.   In the shadows of colonization if we tell all of our stories we can find healing.  However we need to do this independent of a religious institution that struggles to see how it is implicated as colonizers, whose fiscal and property development operations are acquisitive, who in the case of the settlement of Utah had a tremendous impact upon the Utes, the Piutes the Shoshone in terms of their settlement, their appropriation of land and food sources and the permanent dislocation of a people. In the case of Iosepa where the LDS church encouraged and facilitated the relocation of 200 Hawaiians to an arid valley in Utah wherein disease, crop failures and lack of resources devastated the group wiping out generations of Hawaiians and separating them forever from their turangawaewae. Or in the case of the Lamanite Placement Programme, as my colleague Elise Boxer a Dakota professor of Native Studies describes it:
In essence, Mormon foster families and their homes served as sites of colonization and became institutions of civilization designed to "eradicate Native thought, language, culture, and education."[2]
Part of this Mormon colonization process entailed inherent destruction of Indigenous languages, "paganism," economic, social, cultural, political Indigenous institutions. [3]
Mormonism at the centre has been and continues to be a part of the colonizing enterprise and has done little to understand and respond to the cultural, political, economic and social particularities of the rest of the world – much less those of their indigenous brothers and sisters.
Yet, in 2014 more and more LDS Maori are present in the realm of indigenous politics and activism. Yet we live a double life, where on the one hand we advocate for language revitalization and are working hard to raise a generation of Maori children who are fluent in a dying language but we don't readily ask for this space at the pulpit, nor do we give our children the language of God in the language of their forebears.   While on the one hand we read the gospels and like Te Ua Haumene, Te Kooti, Te Whiti-o-Rongomai, Rua Kenana and Paora Te Potagangaroa we see a story of oppression and suffering, and a glorious redemption from the earths injustices made possible through the political dissident, Jesus Christ, our LDS teachings waver tremulously toward a version of the savior as first and foremost a personal redeemer from personal weakness. And though we shake a fist at the legislative violations that alienated Maori land by the millions of acres, we are inclined to quietly turn a blind eye to the Maori land given up freely to the church for chapels with little recompense, because we have been taught to see this as sacrifice rather than manipulation. And while we rage at the economic exploitation that caused Maori to sink into low paid unskilled work, we glory in the years and years spent by our tipuna who worked as unpaid labour missionaries to build church owned facilities that are now going to be demolished and sold away in perpetuity.
Today our Mormon Maori narrative, if told would be potentially complex, filled with paradox and hard questions that can't be solved at pulpits, or in announcements made from Salt Lake City. Maori as a people with significance in the Church of Jesus Christ of Latter-day Saints have long been dropped as a concern. While the story of our sea faring relationship to Hagoth have given us some sense of connection with the Semitic whakapapa of the family of Lehi this story has all dropped out of official Mormon discourse. Often stated, but never a doctrine, never said but never repudiated it rests in the archive of prophetic speculation and hardly spoken of as the church rit large grapples with the trouble that DNA evidences and the Book of Mormon has caused their historical Lamanite, Nephite claims.   The torch for Mormon Maori are carried by in the reminiscences of the elderly and dying in Utah, while the period wherein New Zealand Mormonism was strictly associated with Maori is fading quickly. We have relied for too long upon the narrative weight of the Utah archive to tell the stories of Maori in the LDS church. Narratives that are largely not our own but belong to others – white Americans – kua mate, who have bequeathed missionary journals and letters to the Church History library. Or well meaning white folk who have pronounced themselves experts in our own histories. This is not to say they haven't done some wonderful work, but they are, sadly limited. They largely talk about us, not with us, or for us. In an effort to ensure that the story of Mormon Maori adheres to the faithful historical Mormon tradition, much of our story is untold. Our voices are missing, the nuances, complexities and knowledges that only Maori have the understanding to articulate are largely absent in the New Zealand's Mormon narrative because we have been trained to wait for permission to tell our own complex stories, to be ourselves and to express our truths. Stories that affirm Mormonism but deny it colonial complexities. Maori are a people in diaspora, split apart from each other because of colonization, rendered collectively incoherent by an institution that has culturally developed post-correlation to prefer a single story of all things Mormon. In this American religion wherein we have come see authority, legitimacy and cultural authenticity as something that is first and foremost constituted in Salt Lake City, on Temple Square we have been too silent, too deferent, too colonized to tell our own stories, until today without fear.
WEB Du Bois, speaks beautifully to this condundrum: "It is a peculiar sensation, this double-consciousness, this sense of always looking at one's self through the eyes of others, of measuring one's soul by the tape of a world that looks on in amused contempt and pity."
This is not to suggest that Maori are politically impotent – far from it. Many of us are heavily involved in discussion of cultural and language revitalization, we are involved in protest and in key education, health, justice and development initiatives. Many of us are committed to the Treaty of Waitangi, have marched, are highly politicized and active in Te Ao Maori. Some of us can credit our Mormonism for the social mobility that takes us into these spaces. But this calls upon us reconcile our finely honed political work outside of the church to our religious experience in the church, work that is born out of our hearts and souls.
And don't imagine that the church in the US is a place of political absence. Try being in American wards during the US presidential elections a couple of years ago. It might be selectively politically neutral about its not politically torpid. US Mormons have quite adeptly refracted their national experience into their religious experience while we sit at the periphery of the church chewing on the inside of our mouths with years and years of curriculum reflections on the American religious experience rather than our own. Our religious and our spiritual maturity is not measured in our willingness to be silent and selective in our engagement with things Maori, but in our willingness to face up to everything that our church has become for better or for worse.
So here is my question: What if that permission never comes? What if nobody from Church Head Office of from the Red Chairs wants to hear the messy, violent and problematic story of Maori that spans generations of colonization. What if nobody in a dark suit asks wahine Maori for their stories – however complex and fraught they might be?   What would 2050 look like if we chugged along in this existential wasteland wherein all of the spaces are filled with stories that are not our own. How will our tamariki mokopuna Maori make sense of themselves in Mormon spaces unless we actively leave them with our stories.
So the state of 2050 depends on our motivation to tell, write, publish and proclaim our stories of being Mormon and Maori. It depends on our willingness to tell those stories even though they may seem contradictory, paradoxical, contrary, troubling, problematic. It depends on our willingness to cease looking for a single story, or a single expert to tell a correlated story of Maori within Mormonism.   It depends on our willingness to honor everyone's voices particularly those of our wahine Maori who have been largely invisibilised in the archive.  It depends on our willingness to debate, to revive as Maori the art of tautohetanga, to whakarau kakai in the spirit of nonhierarchical inclusivity.
In the wake of a rapidly changing orientation to the question of Mormon cultural and social history bought upon by the scrutiny of the LDS records, we are perfectly poised as a people to engage with Mormonism as more than the purveyors of faith and eternal reward. As Maori we are wonderfully situated to tell stories that disrupt Mormonism's Americentric simplistic racial narratives and challenge the status quo. And as one of the first non-white groups consistently proselytized by the LDS church we have had enough intergenerational experience to describe the pitfalls, raise warnings as the American church seeks to spread its influence to diverse communities throughout the world. In that respect it behooves us to tell our stories.
I want to leave my tamariki with a rich Mormon identity wherein their political and cultural identities are not placed to the side as superfluous.   I want them to draw upon stories of faith, doubt, trouble, love and hope from a diverse range of people. Because I believe that in so doing they will find resources to empower them and help them make sense of the world they live in yesterday, today and tomorrow.
Na reira koutou ma, Ma tou rourou, ma taku rourou ka ora ai te iwi. Tena koutou, tena koutou, tena tatou katoa.
[1]Advances to Settlers Act (1894)  Low interest loans made available to white settlers to buy  land from the Government
[2] K. Tsianina Lomawaima and Teresa L. McCarty, To Remain an Indian:" Lessons in Democraxy from a Century of Native American Education (New York: Teacher's College Press, 2006):xxii.
[3] Ibid., 4.