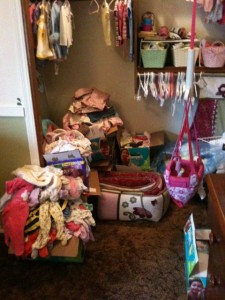 A student of mine told of sending his 7 year old daughter in to clean up her room during Saturday morning family chore time. She emerged from her room after 5 minutes and said to him, "I'm done. Can I watch TV?" Suspicious, he went to investigate. Her room looked clean and pristine.
Until he opened the closet door and was almost buried by the avalanche. He got a book and sat on a stool and read it in her room while she cleaned her closet. With Dad present with her,she got in gear and almost happily cleaned her closet, putting toys on shelves, clean clothes in drawers and on hangers and dirty clothes and wet towels in the hamper. When she was done she came and hugged him and said "You're the best Dad in the world."
That is a sweet Saturday story, but it's not just that. It's also a story that points to our Lenten task and God's presence with us in it. Our Lenten task is to clean up our closet before we clean up our room. It is to look to our inner motivations and desires before we get preoccupied with how we're coming across to others.
We like to present a tidy appearance to the world, but we all have closets. Matthew's Jesus would have us clean our closets, not have an inner "safe room" that is filled with selfish motives and shallow goals.
The sixth chapter of Matthew, the gospel text for Ash Wednesday begins, "Beware of practicing your piety before others in order to be seen by them." The word translated here as "piety" is actually "righteousness," (dikaiosyne), the key motif that runs like a powerful electrical current through the entire Sermon on the Mount in Matthew (5:20; 3:15; 5:6;10). Matthew wrote his gospel for a mixed Jewish/Gentile community. Matthew's Jesus called Jewish and Gentile Christians alike to a righteousness that exceeds that of the scribes and Pharisees (5:20). Righteousness is not a mechanical obedience to rules or resting on the laurels of our religious heritage. Righteousness is an inward faithfulness and obedience to the spirit of the law of God: love of God and love of neighbor (22:39-40) Sometimes referred to as superior, or higher, righteousness, "genuine righteousness" (or active righteousness) is a major theme in Matthew. Righteousness is not the possession only of the spiritual elite; active righteousness should be a quality of all Christians, linking purity within to a passion for justice toward others. (McKenzie 5,6) Matthew's vision of ethical living applies to both our private lives and the life of the church. He wants the church and its leaders to clean their closets, not just present a scrubbed and smiling face to the world.
In this first verse righteousness is defined as acts of piety, revered by Judaism and by Matthew's own community. Matthew' concern is that such action be truly an expression of one' interior communion with God. Another key terms in this verse is "your Father in heaven" (6:4,6,8,9,14,15,18). This designation in Matthew affirms both God's loving presence ('Father") and awesome transcendence ("in heaven"). We will meet it again in the Lord's Prayer (6:9-13) (Senior, 83)
The contrast between inward and outward motivation runs through Jesus' teaching on 3 categories of piety: almsgiving, prayer and fasting. Is the motivation loyalty and devotion to God or the desire for the good opinion of others?
This passage got me thinking about the difference between how we present ourselves on the outside and who we are on the inside. A book on preaching by David Day, British pastor and author, is appropriately entitled Preaching with All You've Got. Day says a preacher should be able to stand before his or her congregation and say "I am who I appear to be." There are, of course, things we don't share with others for a variety of good reasons, but being able to say "I am who I appear to be" is a good goal for all Christians.
Politicians expend a lot of energy trying to appear to be someone or something they may or may not be. That's why being a politician is so exhausting. Today I have to put on jeans and a bomber jacket and be an everyday Joe. Tomorrow I've got to parade my family up to the podium and be the epitome of a faithful spouse. Look, I'm praying. See, I'm fasting. Watch, I'm giving alms. Now vote for me.
If a public figure's life looks tidy and perfect, don't we often dig deeper because we don't trust the appearance of perfection? What is that about? Are we as vigilant about our own hypocrisy?
On the flip side, if an entertainer or public figure's life becomes a train wreck and all outward appearances point to disaster, do we take time to look deeper to empathize with and respect the struggling, still gifted person within?
Whose closets are clean of moldy motives and odiferous desires in Matthew's gospel? Whose closets are stocked with righteousness? Not the Pharisees. Theirs are full of faith in their descent from Abraham as guaranteeing salvation. Their inner motivation is material comfort and social prestige. Not Herod or Pilate whose closets are full of faith in wealth and power. Their motivation is a desire for fame and power.
The NEB rendering of Matthew 5:3 says "How blessed are those who know their need for God." Those who demonstrate active righteousness in response to God's gracious invitation to relationship have in common their recognition that they need God. "Those who are well have no need of a physician but those who are sick." (Matthew 9:12)
Once we realize our need for God and commit ourselves to grow in faith in God during this Lenten season, we can be assured that God will pull up a chair and keep us company while we clean out our closets.