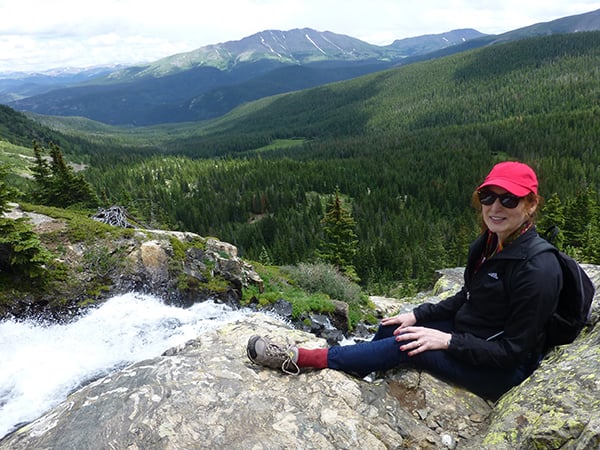 Our family spent a week in Breckenridge, Colorado last summer. During the week we went on several hikes. The altitude there is almost 10,000 feet. While I had heard people complain about nausea and fatigue due to the altitude, I was pretty confident in my fitness level, given my 30-45 minute daily aerobic workouts. When our oldest daughter purchased some oxygen at an oxygen store downtown for our first hike, I remember thinking – I won't need that! Until we had been hiking over rocks and hills for an hour or so and I began to feel my lungs didn't have enough capacity to withstand the exertion. I took a puff. Other family members did as well. And then, 15 minutes later, another, and then another. I survived the climb just fine- no blisters, not much soreness, but I did take away the thought that if I had been more fit the climb would not have seemed so steep. And that fitness was not going to happen automatically!
I decided some years ago that I wanted to learn Spanish during a sabbatical from teaching. I took two semesters of Spanish at a local community college and made considerable progress. When I resumed my teaching duties, my Spanish practice fell by the wayside. The learning curve now if I wanted to regain my level of fluency and progress, would be very steep.
I have a number of vague ambitions that have not solidified into goals. Areas in which I would like to have expertise without putting in the time to earn that expertise. Like people who want to be authors but don't want to do the grueling work of writing anything. In addition to being fluent in Spanish, I would like to be certified as a yoga instructor. I would also like to be a really good cook. I would also like to play classical guitar. So that when I meet someone who speaks Spanish, we can have a meaningful conversation. So that I can, with minimal planning, pull off delicious and healthy meals each night, and wow relatives and friends who come over for dinner for special occasions. So that someday when I have the time I can lead yoga classes at the local community center or YMCA. So that when family members or friends have special occasions, I can sit on a stool in the corner and play hauntingly lovely background music on my guitar.
The opportunities to exercise the expertise(s) I yearn for abound. All that is lacking is my putting in the time and disciplined practice to achieve them.
I suppose the world would not be greatly diminished if I never learn to speak Spanish, become a gourmet cook, get certified as a yoga instructor or take the stage at Carnegie Hall with my guitar.
But there is one area in which the consequences of my not following through will negatively affect both me and those around me- that is my life of prayer. I remember reading a book by Joseph Jeter who taught preaching for many years at Brite Divinity School. He tells of a town that advertised that their preaching revival was to be led by a pastor who had won an award in "pre-aching" in seminary. Townspeople speculated as to what this meant- Did this pastor have a superior level of empathy? Or was he a holistic healer who could prevent aches and pains? The next day the paper printed a correction. They asked readers to ignore the hyphen mistakenly placed between pre and aching. Pre-aching was supposed to be preaching. But there is truth in the typo.
All our actions of response to God, preaching, worship, acts of kindness, and public and private prayer (what John Wesley, the founder of Methodism, called "the means of Grace) are preparations for the "aching days," the traumatic times, the steep climbs that lie ahead for each of us. Daily prayer is our response to the initiative of God who created us and seeks to guide us through this life into the next. It is the practice of acknowledging and re-acknowledging the Presence of the Holy Spirit in us and around us. It is how we grow in wisdom, peace and joy that bless us and others.
The practice of daily prayer is how we prepare ourselves for the days we know are coming but still can't fully anticipate. The time to begin or continue this disciplined practice is today. So that, when the testing time comes, we stand on a solid, fertile ground of our relationship with God that we have cultivated through prayers of confession, petition, intercession, praise and thanksgiving. The time to develop a relationship with God is not the day we realize we have hurt someone else badly and have no clue what to do with the flood of remorse that engulfs us. The time to develop a relationship with God is not when we have just heard that a loved one's test results are positive for cancer. The time to draw near to God who will never leave us or forsake us is not the day we find out a beloved friend or family member is moving to another state. Or the morning we find our spouse lying on the cold tile of the bathroom floor with no pulse.
This is not to say that through the practice of daily prayer we earn divine solace and stamina that people who don't pray don't have access to. It's to say that established habits don't desert us in stressful times. And that time spent daily with God results in our gradual growth in faith, trust, wisdom, serenity and joy – which is not dependent on external circumstances. All this is available to one and all at any time. But if I have already been in the habit of daily spiritual exercises, the fall may not feel so far and the climb may not feel so steep. I will have what we might call spiritual stamina.
So while I may let the Spanish verb conjugations slip away, order take out instead of preparing a gourmet meal tonight, and let my guitar calluses grow soft again, I had better not slack off in my habit of daily praying.
And, while I'm at it, I'd better not let up on my aerobic training. Our family is returning to Breckenridge for a week later this summer, and this time I'm going to be ready!
Photo by Alyce McKenzie.