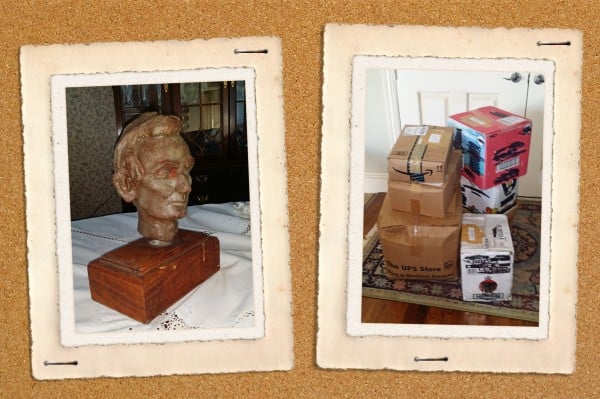 For the past few years, I have had as a goal to declutter our home.
My goal is to have our home reflect our current interests. I enjoy the process of decluttering and the order it brings to the home.
Decluttering means boxing up the soccer trophies to give to our adult son Matt who now lives in Boulder, CO.
It means taking the homecoming mums from our daughter Rebecca's high school dances to the consignment store. This link explains what those are if you are not from Texas! Texas Homecoming Mums
Decluttering means finding out where on eBay I can sell my 1980's wedding dress that no one in the family is going to wear. I don't say this with sadness – looking at the pictures now I would seriously rethink the pointy sleeves and definitely ditch the garden hat.
It means radically reducing the size of my collection of lanyards from past professional conferences.
It also means pitching spices that date from before the Bush (the first Bush) administration.
I had been making good progress until a couple of years ago when my husband Murry's great aunt Kathryn, a linguist and Wycliffe Bible Translators missionary, died at age 94. Murry became the executor of her estate, since his dad was no longer able to fulfill that role. We flew to Tucson, AZ to the trailer where she had lived since her retirement at age 80. Her trailer, with its glorious view of a mountain, was jammed with boxes and stacks of magazines and newspapers. We spent several days going through things, box by box. In among the old church bulletins and recipe clippings for meals she never cooked (she hated cooking but liked to eat) were notes from her groundbreaking life's work- creating a language (Chontal) for a tribe descended from the Mayans on the Yucatan peninsula of Mexico. There were diaries of her journeys, beginning in the early 1940's when she was in her early twenties. We saved them and donated them to her alma mater, Wilson College in Chambersburg, Pennsylvania. They became part of a display called The Women of Wilson, focused on the several young women who became missionaries to China and Mexico in the 1940's. Kathryn Keller Archives at Wilson College There were also boxes of costume jewelry, another of her passions, some of which now hangs on wall hooks in my closet! That is in addition to the 3 or 4 boxes of letters and photo albums in the closet in the upstairs hall.
When we came back to Texas, I continued my efforts to declutter my home, boxing up old cookbooks, a stray juicer, and a set of knives I had received as a free offer- only I already had knives, and dropping them off at the Goodwill donation center. Progress was being made….. until….
Last year my husband's parents, in their early 80's began to show signs of dementia and moved out of the condo where they had lived for 20 years into a dementia facility in York, Pennsylvania. On one of our trips, Murry and I spent a day going through the storage unit that held the contents of their condo that had not fit into their new 2 room suite. In the guest room closet of my home there are now several boxes of photos, some of my father- in- law's hand written assignments from his journalism classes at The University of Pennsylvania, complete with the professor's marginal comments, and a box of love letters between my in laws which allowed me to see them in a whole new light!
When we got back to Texas, I continued my efforts to declutter my home, going through my closet, pitching several pairs of shoes that had never been friends to my feet, recycling magazines, boxing up self-help books I bought when working on a book about how much better biblical wisdom is than self-help wisdom. My Preaching Resources
I was making progress … until…
A few weeks ago my mother, who is beginning to shows signs of dementia, moved from her apartment at a retirement village in Mechanicsburg, Pa., to an assisted living suite. While other family members worked in other rooms of her apartment, I sat in the closet in the den in front of a filing cabinet filled with the diaries she kept of every week's activities when the four of us siblings were growing up and the letters she wrote to my grandparents in North Carolina every week. There were newspaper clippings from my dad's career as a Civil War historian, publisher and novelist. Robert H Fowler Historical Fiction
There was a set of china I remembered from holiday meals. There was a bust of Abraham Lincoln from my dad's sculpting phase. There was a china bowl and stand commemorating his lifetime achievement award from the Pennsylvania Newspaper Association. Yesterday, seven boxes of family documents and photo albums arrived and are sitting by the front door. Abraham Lincoln's bust is sitting in the middle of my dining room table. I won't go into what it cost to have all this shipped from Pennsylvania to Texas! My children have called dibs on several of these items, so that their homes will now be graced by some memories of those who have gone before them.
I am not a hoarder. I enjoy decluttering. Still, when going through the memorabilia of past lives, there were certain things I simply could not bring myself to jettison. This archival impulse took me by surprise. I suppose it doesn't really conflict with my goal of having my home reflect my current interests. I suppose it means that my current interests include the hopes and dreams of those who have made me who I am.
I need to sign off now to go make some room in my bedroom closet for those seven new boxes.
Photos by Alyce McKenzie.