Abraham didn't walk by faith to obtain the promised son until it became clear that walking by sight with his own plans guiding him just wouldn't accomplish the purposes of God.
God had promised Abraham and Sarah a son, and they had waited a long time for the fulfillment of that promise. As time went by, it seemed nothing was ever going to happen, and both of them grew impatient.
This inspired Sarah to think of a plan: Abraham could lay with Hagar the maidservant and receive the promised son that way. In Genesis 16:2 we read that Abraham "heeded the voice of Sarai," listening to the voice of his wife rather than the voice of God. He lay with Hagar and, sure enough, she bore the son Ishmael. But this was a plan of the flesh to bring about the plan of God—and that will never work.
Later on, in Genesis 17:18–19, it says, "And Abraham said to God, 'Oh, that Ishmael might live before You!' Then God said: 'No, Sarah your wife shall bear you a son, and you shall call his name Isaac; I will establish My covenant with him for an everlasting covenant, and with his descendants after him.' "
God basically said to Abraham, "Yes, you got yourself a son, but no, I cannot bless a product of the flesh. Live by faith and let Me do it My way."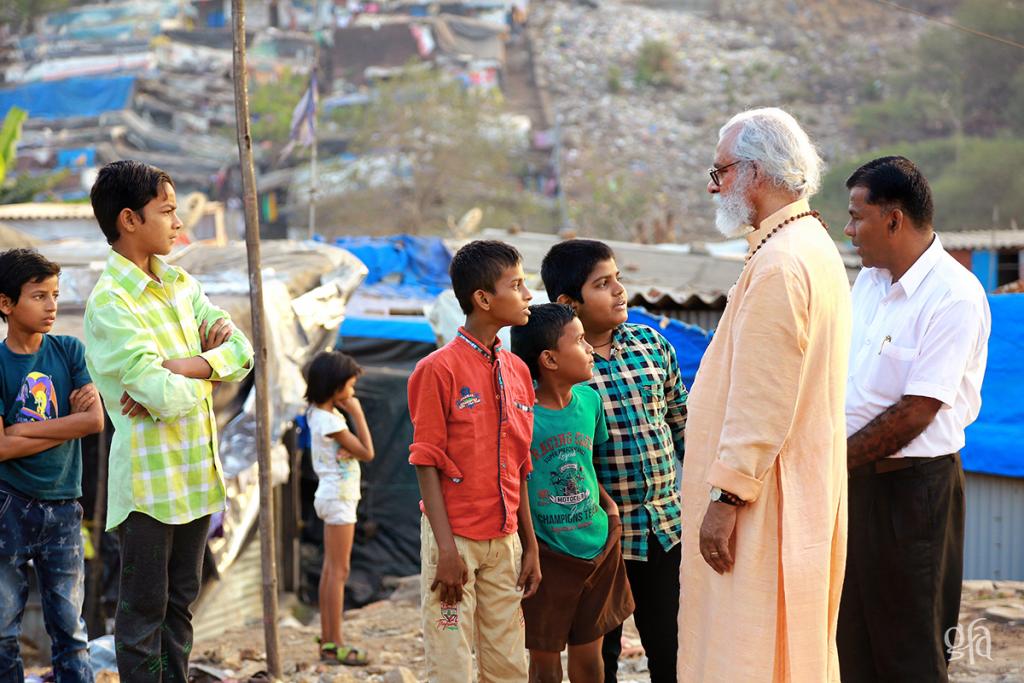 Until Abraham didn't know how to get a child, he didn't need faith. He walked by sight first, obtaining Ishmael, but he was not the son God had promised. Only when it was completely impossible—when both he and Sarah were too old and when their schemes to get a child their own way had failed—did Abraham have the faith to let God do it His way.
Do you have enough faith to let God do it His way?
Most examples of the futility of walking by sight aren't so clear as this one. You can make your life look spiritual by obeying the Ten Commandments and the Sermon on the Mount. You can walk by sight and it can look okay, even good.
With deliberate willpower, people can rightly obey the laws and modify their behavior.
This was the case with the story in Luke 18 of the rich young ruler who obeyed the Ten Commandments. He was the model individual, but just because he was perfect in obedience doesn't mean he lived by faith. The Bible says, "Whatever is not from faith is sin" (Romans 14:23). "Sin" is walking your own road, regardless of whether the road you choose looks good or bad to the rest of society.
Even today, a lot of Christian work is done by sight. There are Christian people who think they know how to carry out God's work. They think they know how to grow fruitful ministries or attract the youth. But the truth is that if what you are doing is not done by faith, God will not bless it. God is deeply concerned that we do His work, His way, by faith. It is simply how things function in the kingdom of God.
Trusting to God to Accomplish His Will in His Way
Sometimes walking by faith seems passive and slow in coming to pass. Look at David's life. In the book of 1 Samuel, we can see how David endured much, yet he never resorted to fighting to make sure the crown God promised him would be his. He had faith that God would fulfill the promises He had made.
David started out as a mere child taking care of his father's sheep. On the day the prophet Samuel came to anoint the new king, chosen from David's family, his own father didn't even regard young David as one to be considered. It wasn't until Samuel had passed over all the older sons that David's name was even mentioned. Then, when David was finally acknowledged and Samuel poured the oil on David's head, anointing him as the chosen king, what did David do? Go and demand the crown and begin reigning? Not at all! He went right back to his simple sheep-herding.
It was only later, when David brought food to his brothers who were fighting the Philistines, that God showed His favor upon him, giving David the victory to defeat Goliath. When King Saul found out about this, he didn't step down right then and say, "Alright David, now you are the king." No. David's journey of obtaining the promise from God was, from then on, filled with dodging spears, running for his life and living in caves in the wilderness, hungry and destitute. Even David's wife gave up on him, and several times his band of followers threatened to leave. Once he even had to pretend to be a madman just to escape his adversaries.
Finally, after many years, David had the upper hand. King Saul, unattended and alone, came into the cave where David was hiding. This was David's opportunity to kill the king who had so earnestly sought his life, or at least to capture him! All those years of running could finally come to an end. Saul's life was in David's hand and at his mercy.
But God did not want David to act on the opportunity this way. The temptation to walk by sight must have been so great. Yet trusting in God and not choosing his own ways, David allowed Saul to escape so that God could fulfill the promise of making him king in His own way and in His own timing. David let God do it His way.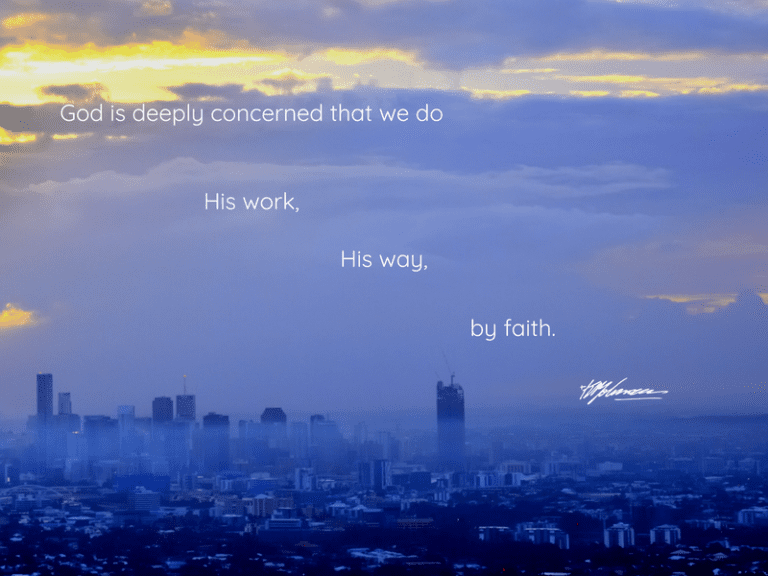 Even after this incident, Saul didn't change. He was soon after David once more. This time God caused a deep sleep to come upon Saul's army, making it possible for David and his men to walk right up and take the spear from near the sleeping king's head. The men with David urged him to kill Saul. One said (paraphrase), "God has delivered Saul into your hands. What are you waiting for? Weren't you praying that God would fulfill His promise that He made to you? And here he is, just one jab with the spear and you can kill him!"
To strike Saul at this point would not have required scheming or conniving on David's part at all. There would have been no manipulation or tricks. But still David would not do it. He would not do it because he believed God and His way of bringing things about. This journey of trusting God was not a one- or two-year struggle. It went on for many years. But David continued to live by faith, not by sight, choosing God's way above his own.
Now take that into your world. Take David's example of living by faith and apply it to your situation. I am saying this to you so that you will continue to lay aside your cleverness, abilities and intelligence.
We must choose to walk by faith, trusting God to fulfill His promise in His way and timing.
Excerpted from Living by Faith, Not by Sight by KP Yohannan. Copyright © 2003 by KP Yohannan. (Wills Point, TX: GFA Books).
=====
Click here, to read more articles on Patheos by Dr. KP Yohannan Metropolitan.
Go here to know more about Dr. KP Yohannan: GoodReads | Radio | Amazon | About