Many of our brothers and sisters serving the Lord in Asia pay a very high price to serve Him.
After attending Bible college, one brother named Dayal had prayed about where the Lord was calling him to serve. When his leader suggested one particular region, he was dismayed, but he agreed to pray about it. Soon, he had confirmation that this was God's choice for him.
He did not have to cross any national borders to get to this new village, but the culture was so different that it felt to him like the other side of the world.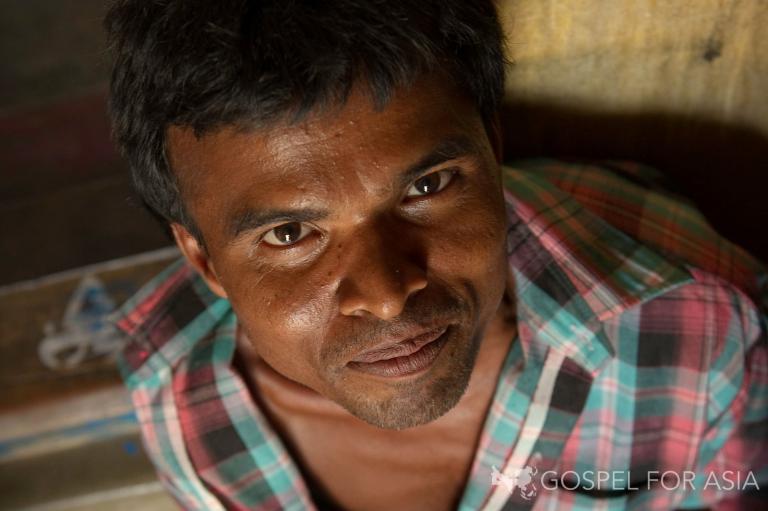 Pushed to His Breaking Point
"If everything were good here," Dayal sensed God speaking, "why would you need to come here? It is because things are not good—because things are not convenient— that I called you here."
On the day of his arrival, he was invited to dinner. There he got his first dose of culture shock. In a pot before him sat a boiled goat head, its eyeballs staring out at him from its boiled skull. Beyond the pot of goat, Dayal's hosts sat, watching him.
Dayal managed to swallow some bites of goat that night, to the satisfaction of his hosts. But the food was just the beginning of the loss he would experience—death to all that was familiar and comfortable.
His new home was beautiful, surrounded by forested hills and rice paddies. But behind the beauty were deep inner needs. Among the population, immorality, alcoholism and family violence were rampant.
The first two months were an intense struggle. He lost weight. He was homesick and lonely. Twice he packed his bags. Finally, Dayal laid his heart open before the Lord.
A New Perspective
"This is too difficult," he prayed. "I want to go back, because things are not good here."
The response he received from the Lord marked a turning point.
"If everything were good here," Dayal sensed God speaking, "why would you need to come here? It is because things are not good—because things are not convenient—that I called you here."
Dayal's own life changed that day. He began to view the challenges with a perspective that was bigger than his own. And as he persevered in his ministry work, the Lord produced fruit through his life.
Fruit of His Sacrifice
He began speaking over the radio in the local language. A little later, Dayal received an earnest letter from a village 45 kilometers away.
"For the first time in our lives, we heard a radio broadcast in our own language," the letter read. "We are 13 people here, ready to know Jesus more. We don't know what to do. Something is happening in our hearts; please come and help us."
Dayal and another believer traveled by bicycle and reached the village in the afternoon. Dayal began to pastor that small group of 13 people, and they were not the only ones who began to walk with the Lord through his broadcasts.
"I have become one among them," Dayal explains. "They don't see me as an outsider anymore because I visit with them, I eat with them, I dance with them, I pray with them."
The fresh perspective Dayal got when he laid out his heart before the Lord enabled him to continue his ministry and be faithful to what God had called him to.
May you and I look to the Lord in times of trial so we may gain the strength to persevere and be faithful to our Lord.
A Fresh Perspective
Consider some of the challenges you face—prayers you have been praying for a long time without any answer, coworkers who are hard to love, or ministry that seems to be bearing no fruit—and seek the Lord's perspective on it. And may He give you the grace to persevere.
---
Dr. KP Yohannan, founder and director of Gospel for Asia, has written more than 200 books, including Revolution in World Missions, an international bestseller with more than 4 million copies in print. He and his wife, Gisela, have two grown children, Daniel and Sarah, who both serve the Lord with their families.
Gospel for Asia has been serving the "least of these" in Asia since its beginning in 1979, often in places where no one else is serving. GFA supports national workers who are serving as the hands and feet of Christ by ministering to people's needs so they can understand the love of God for them for the first time. GFA is engaged in dozens of projects, such as caring for poor children, slum dwellers and widows and orphans; providing clean water by funding wells; supporting medical missions; and meeting the needs of those in leprosy colonies. Through GFA's Bridge of Hope Program, tens of thousands of children are being rescued from the generational curses of poverty and hopelessness.
Click here, to read more articles on Patheos by Dr. KP Yohannan Metropolitan.
Go here to know more about Dr. KP Yohannan: Flickr | KPYohannan.org | GoodReads | Radio | Amazon
Learn about Pastor Ojas, who day by day perseveres through difficulties to serve the Lord.