Finding our source in God alone is central for both our personal lives and our ministry. But as we live for and serve the Lord, we can sometimes lose that focus. What is the sign that we are no longer depending on the Lord, and that we are no longer broken before God? It is our attitude.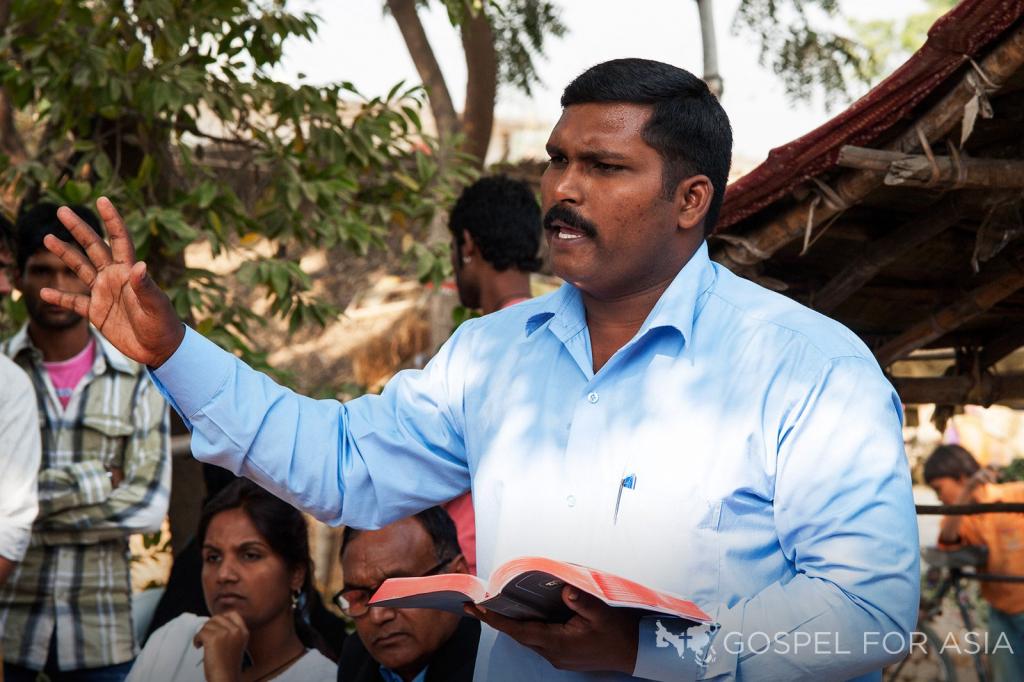 Years ago, I used to complain about recording my radio broadcast. My life was getting painful because of lack of time, and privately I said to my wife, Gisela, "I am so sick and tired. I can't do my radio broadcast anymore. I get up so early in the morning and then I work all day. I am emotionally drained. I wish somebody else would do it."
Then she said to me,
"May I tell you something? You've been complaining about how important you are, how little time you have and how hard this job is. Don't you understand? When you heard God's call to lead Gospel for Asia, you gave up your teaching and preaching ministry and complained that your gift was not to live in America and teach people about missions.

But how can you forget that God, in His mercy, gave you a microphone and a world to speak to? God has a thousand people waiting in queue for one opportunity to do a better job than you are doing. But God still shows you mercy. Be careful. The work is not something to boast about or to complain about, but rather our privilege."
If you are serving the Lord with the wrong attitude, either boasting or complaining about the work, would you please receive this warning and repent?
An Opportunity to Get Back on the Right Track
In the short time of our ministry, because our growth has been so fast, I have seen God empower the young and helpless with His might and do great things through them to serve this world. At the same time, I have watched many people, who started well and depending on the Lord, fall by the wayside because they began to boast in themselves, and their hearts grew proud.
Search your heart to see if there is anything there that may be leading you down this destructive road of depending on yourself and external things rather than on God.
Ask these questions to help you see whether you are depending on the Lord:
Do I believe God for the results of my ministry?
When there is success in my ministry, do I have an absolute awareness that it happened because I trusted the Lord?
Do I fast and pray, waiting on God for my ministry to succeed?
Do I ask the Lord for the money I need for my ministry?
Do I have ownership of and a burden for my ministry?
Acknowledge and Repent
If you answered no to some of these questions, take a few minutes now to come before the Lord. Receive His correction and mercy, and ask Him to help you depend on Him.
---
Dr. KP Yohannan, founder and director of the nonprofit organization Gospel for Asia, has written more than 200 books, including Revolution in World Missions, an international bestseller with more than 4 million copies in print. He and his wife, Gisela, have two grown children, Daniel and Sarah, who both serve the Lord with their families.
Gospel for Asia is a nonprofit organization serving the "least of these" in Asia since its beginning in 1979, often in places where no one else is serving. Gospel for Asia supports national workers who are serving as the hands and feet of Christ by ministering to people's needs so they can understand the love of God for them for the first time. Gospel for Asia is engaged in dozens of projects, such as caring for poor children, slum dwellers and widows and orphans; providing clean water by funding wells; supporting medical missions; and meeting the needs of those in leprosy colonies. Through Gospel for Asia's Bridge of Hope Program, tens of thousands of children are being rescued from the generational curses of poverty and hopelessness.
Click here, to read more articles on Patheos by Dr. KP Yohannan Metropolitan.
Go here to know more about Dr. KP Yohannan: Facebook | Twitter | Book | OnePlace | Sermon Index
Read more about depending on the Lord in Dr. KP Yohannan Metropolitan's book Dependence Upon the Lord.