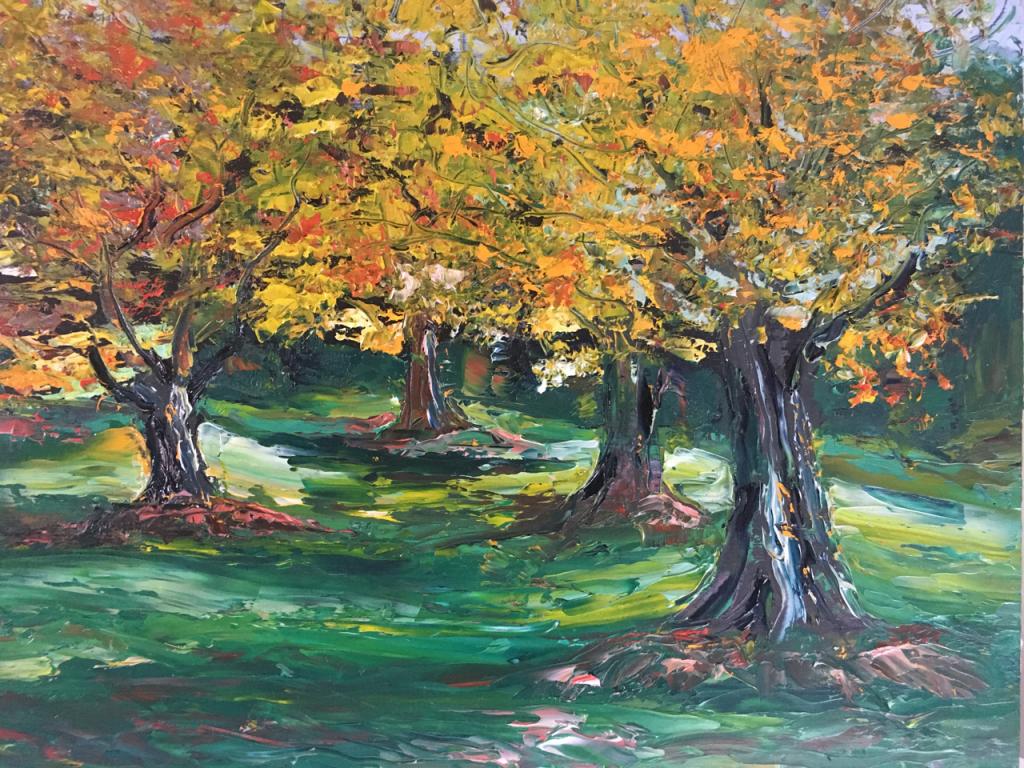 Do you feel a change of seasons coming? I do, and it's more than the autumn breezes blowing in. With my artwork, I am a bit restless, not sure what to pursue. Maybe others are going through change as well. The pandemic turned the world upside down, and it hasn't stopped. We've lost loved ones. We've learned how to work from home. We are reevaluating our priorities. The upheaval of the past year or two has caused many to consider changing jobs or rearranging their lives.
How do we move from one season of life or work to the next gracefully? Are there lessons we can learn from nature?
There is a time for everything,
and a season for every activity under the heavens. —Ecclesiastes 3;1
Rest
God has arranged the natural world so that every year, she takes a rest from the busy productive times of spring and summer, which culminate in the harvest time in early autumn. After that, the trees lose their leaves and rest for the winter. They don't try to produce all year long at the same pace without a rest.
My husband and I are planning a time away to regroup, rest, and listen to God's voice out in nature. If you are tired and feel a change coming, I suggest you plan a time away. It doesn't need to be expensive. We plan to go camping for a couple of nights. Just try to find a way to slow down for a bit. Seasons change in life, and it's not healthy to be constantly stressed. I hope to find some clarity as I get away from all the things I ought to do around the house, in the studio, and at the computer.
Prepare for the Next Season
Farming is not my specialty, but I've heard that farmers either allow the soil to rest through the winter, or they prepare the soil for the coming spring. Either way, they are preparing for the next season of life. You may not know what is coming, but you can take some time to prepare your heart, mind and body for the next challenge. What does that look like for you? Do you need to start a gratitude journal or a new prayer practice? Do you need to change your schedule in order to go to bed earlier for the sake of your health? If we've learned anything from the pandemic, I hope we are prioritizing health more. I'm planning to get more exercise and to study the intersection of art and faith as I prepare for the next season of my life.
Take the Next Small Step
I tend to feel antsy if I don't have a detailed map of the next few months—years would be nice—of my life. But God rarely gives advance notice of what is to come. Usually, though, I have a small step I can take. Now, for example, I have an idea for a new, different style of painting. I'm not sure if it will turn out or if anyone will like it, but I can take that step. And after I take that step, maybe God will show me the next one. I'm learning to trust God one step at a time as the seasons change.
Trust in the Lord with all your heart;
do not depend on your own understanding.
Seek his will in all you do,
and he will show you which path to take.

—Proverbs 3;5-6 NLT
Any tips on dealing with changes? I'd love to hear them in the comments!
I'm an artist who loves to write. If you'd like to get to know me better, please follow me on social media.
My Blog: susanebrooks.com
Instagram @sebrooks81 (Mostly Art)
Facebook, Susan E. Brooks, Artist,
Twitter @sebrooks81