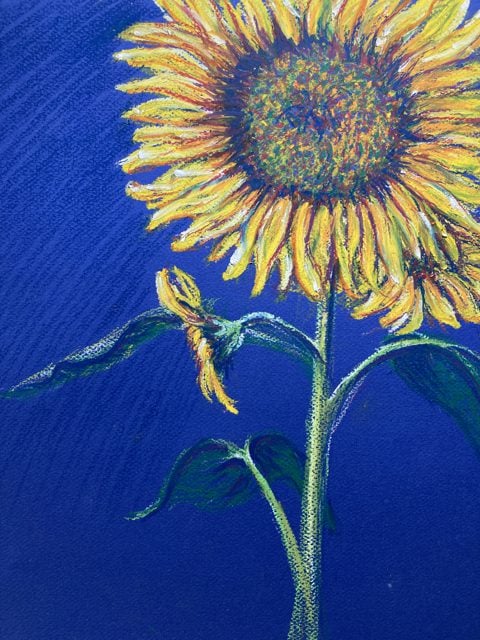 "I don't buy the 'Do what you love' craze," said my dear friend the other day. "Somebody has to clean the toilets!" I didn't argue with her. On one level, she's right, of course. But I also want to believe work can be motivated by joy and love, or at least, by the joy set before us, like what is said of Jesus in Hebrews 12:2.
Let us fix our eyes on Jesus, the author and perfecter of our faith, who for the joy set before Him endured the cross, scorning its shame, and sat down at the right hand of the throne of God.
Apparently, even suffering and death can be about joy, if we fix our eyes on the joy set before us, as Jesus did.
Nothing compares to the sacrifice of Jesus, but athletes, performers and parents all practice perseverance for the joy set before them. Training is painful, practice is grueling, babies are exhausting, but the joy set before us is greater. Hope keeps us going toward the goal. I wish every worker had this hope.
It's All a Gift
None of us has earned the gifts we have been given. By the grace of God, I have the strength to get up in the morning. I was blessed to have wonderful parents and good genetics. I inherited artistic abilities from my parents and grandparents. In that sense, I don't deserve anything. I didn't earn any of it. Even if I have worked hard to develop my talents and learn all I can, the motivation and good health to work hard are a gift. A few years ago, I prayed for about a year and a half to have the discipline to get up early, before going to my teaching job, to do artwork. I don't know why it took 18 months or so, but motivation is a gift. Sometimes you have to pray and wait for it.
So We Give Grace to Others
Please don't misunderstand. In saying, "I don't deserve anything," I don't mean that we are all undeserving of basic human rights. On the contrary, God has given us all grace far beyond what we deserve. So we give grace and help to others, knowing we didn't deserve all of the chances God gave us. I believe we are all created in the image of God, and we all have a right to the basic necessities of life.
God doesn't operate like the world does. He gives us free gifts. The abundance of the earth is God's gift to us, and had we taken good care of the earth and each other, could we all have had what we needed? When Jesus multiplied the loaves and fishes, the people had more than enough. And they didn't have to pass a worthiness test. Jesus didn't say to them, "You all haven't earned this bread, so you can go hungry." Could this be the goal of the kingdom of God—that everyone have a chance to thrive, both now and for eternity?
What would this kind of world look like? I can imagine a few changes. I can imagine a better life for those who do not have the not fun jobs—cleaning the hospitals, for example. What if they were paid well and didn't have to work too many hours, so they could have money, time and energy to do what lights them up after work? That would be a step in the right direction.
Joy and Fun
A happy heart is good medicine and a joyful mind causes healing,
But a broken spirit dries up the bones. —Proverbs 17:22 AMP
Joy and fun are not necessarily the same thing, but God has designed us for both. We need joy and laughter to help us heal our hearts and minds. Don't feel guilty about pursuing leisure activities or work that brings you joy. And when we must do hard things, let's keep our eyes on the joy set before us.
Any tips on finding joy in our work? I'd love to hear them in the comments!
I'm an artist who loves to write. If you'd like to get to know me better, please follow me on social media.
My Blog: susanebrooks.com
Instagram @sebrooks81 (Mostly Art)
Facebook, Susan E. Brooks, Artist,
Twitter @sebrooks81