Thanks to John Clem, the Director and Media Minister at Catholic Web Services (http://catholicws.com/), we've got a full recap of all of this week's most important action both online and around the world.
Before we jump into the tweets, here's a lovely musical moment from Sarah McLachlan to celebrate St. Francis' feast day:
Papal Tweet: "Do we truly pray? Without an abiding relationship with God, it is difficult to live an authentic and consistent Christian life." (Pope Francis Oct. 1st)
Bergoglio's List – a new book about Pope Francis' work in saving lives during military regime in Argentina (Patheos) http://ow.ly/pjb5e
The Faces of Facebook puts 1.2 billion people's profile photos on a single page! (coincidence? same # Catholics)(TNW) http://ow.ly/pjc2V
Feast of Saints Michael, Gabriel, & Raphael – The vision of Pope Leo XIII, the prater to St. Michael http://ow.ly/pjuql

Catholic Cuisine: Recipes for October ~ Month Dedicated to the Most Holy Rosary http://ow.ly/pjLzT
Music Video: This is One A Capella Hymn You HAVE to Listen to – You'll Be Stunned. (GodVine) http://ow.ly/pkjZM
Canonization date announced for Blessed Popes John Paul II & John XXIII Divine Mercy Sunday (Vatican Radio) http://ow.ly/pkZ4g
Graphic to Share: April 27th John XXIII & JPII to be canonized (CV) http://ow.ly/i/3hOCX
USCCB Blog: John XXIII and JPII: Two Saintly Points on the Church's Trajectory http://ow.ly/pl8wK
CNS STORY: Pope chooses 'encounter' as theme for World Communications Day 2014 http://ow.ly/plqnN

Help bring important film about hunger in America to your parish or community — A Place At The Table http://ow.ly/plDkE
13 Things About Your Yard That Say You're Catholic | http://CatholicVote.org http://ow.ly/pm7VR
Video: Vatican Bank issues first public report in its 70 year history (Rome Reports) http://ow.ly/pnTHb
Video: The Magis Center has produced a 4-part video series called "From Nothing to Cosmos" http://ow.ly/pnX4i
Graphic: "Each small task of everyday life is part of the total harmony of the universe." St. Therese of Lisieux (Ucatholic) http://ow.ly/i/3iCqt

Video: Therese de Lisieux from "Who Cares About The Saints?" with Fr. James Martin, SJ http://youtu.be/4v2Zovy1i5Y
The Legacies of Christian Britain at the CIC in Washington | Blog of the Courtier http://ow.ly/pod62
Top 100 Facebook Pages for Catholics (compiled by Catholic Dating Sites) http://ow.ly/poM59
ACTION ALERT: Urge Congress to Advance the Common Good! (USCCB) http://ow.ly/poN4O
WIN "My Sisters the Saints" by Colleen Carroll Campbell | http://CatholicMom.com http://ow.ly/poR3H

7 Steps to Being Young & Catholic | Young and Catholic (Mary Pearson) http://ow.ly/pp8Xk
NEW website: The INNdustry With Sister Rose – featuring movie reviews & interviews | INN http://ow.ly/ppa5S
Cover Photo Finder: Spice up your Facebook Timeline — nice graphics! http://ow.ly/pquSR
Video: Catholic Going Mobile – recorded webinar | Ave Maria Press http://ow.ly/pqwhS
Video: Fr. Robert Barron's Word On Fire – The Pope Francis Interview: A commentary by Fr. Barron http://ow.ly/pqyr5
Tom Clancy, 66, was supporter of Catholic education [may he RIP] (Catholic Review) http://ow.ly/pqGdl http://ow.ly/i/3jmge
The Hope That Is Inherent in Near Death Experiences | Lorna Byrne (Huffington Post – Religion) http://ow.ly/pqNL1
The Catholic Laboratory Podcast – Interview with Vatican Astronomer Brother Guy Consolmangno SJ http://ow.ly/pqZGz
Pope Francis Instagram Account Poised To Take Over Social Media (Huff Post – Religion) http://ow.ly/pqYKq
Tech Tip: 3 FREE Tools to Track Your Social Media Reach : Inboundineer http://ow.ly/prckT
CNS STORY: Pope and advisory council discuss synod reform on first day http://ow.ly/prcKl
MSM: NBC Nightly News: 'Vatican 8' to upend Catholic Church bureaucracy http://ow.ly/prHJR

iPosture: Is Too Much Screen Time Prematurely Aging Our Kids? (Lisa Hendey – Patheos) http://ow.ly/psmQ8
Pope Francis: Pacem in Terris a guide for a better, peaceful world (Vatican Radio) http://ow.ly/psmVX
The Long Road to Including Special Needs Education in Catholic Schools – Aleteia http://ow.ly/psnrS
Reform of the Curia will be "substantial" (Vatican Radio) http://ow.ly/pstCt
Better English Translation – The Pope to Scalfari: This is how I will change the Church | In Caelo et in Terra http://ow.ly/psw6i
Franciscans around the world celebrate the devotion of The Transitus after sundown Oct. 3 | Mount La Verna Fraternity http://ow.ly/ptekv
Pope Francis Pastoral Visit & Mass in Assisi for Feast of St. Francis on EWTN LIVE Friday at 4:15am ET & 5:30pm htt
Pope Francis' Pastoral Visit to Assisi this Friday on Feast of St. Francis – schedule of events (news.va) http://ow.ly/po5oC
Video: Take the St. Francis Pledge — Saints & Seasons with Shannon (Catholic TV) http://youtu.be/aQ-dcNWTM9I
Satire: Pope Francis doesn't like anchovies – Jason Bach Cartoons http://ow.ly/pt7Hm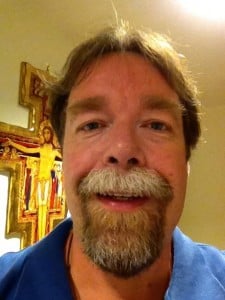 John Clem is the Director and Media Minister at Catholic Web Services (http://catholicws.com/). John is currently in formation to join the Secular Franciscan Order, and loves to share his talents in faith, technology, and journalism in service to the church. John also writes a blog entitled Call To Holiness (http://www.calltoholiness.us/). Follow John on Twitter at @Catholicwebs, on Facebook and at Google+.