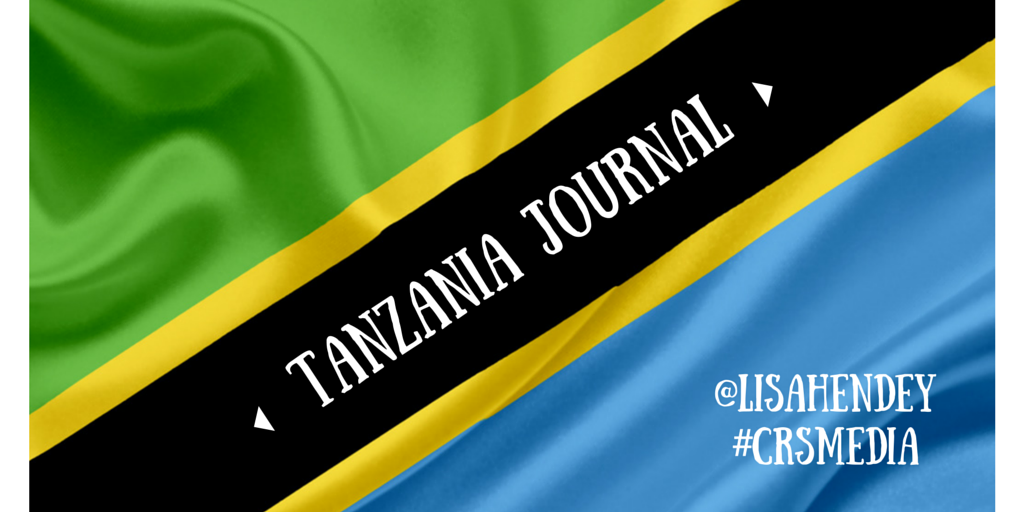 Little luxuries such as Internet connectivity, a hot running shower, and clean fresh drinking water have definitely been put into their proper perspective the past two days here in Tanzania. But among the amazing thing I've learned this week is the fact that every small "sacrifice" is made in exchange for countless blessings. So I'm sorry that I didn't have a blog post yesterday, but I'll try to do my very best today to bring you up to speed on my adventures with our Catholic Relief Services media mission here in Tanzania.
Chengena Soybean Fields
After waking up in our hotel in Songea on Wednesday, we took a bumpy but beautiful drive to Chengena village. Before describing our visit, I need to say a word about Peter and Admin, our CRS drivers. Both are amazingly devoted and have been so helpful in keeping us safe and on time. Tanzania is vastly spread out. There are a few main highways and many dirt country roads that connect small villages. Both Admin and Peter seem quite good at dodging the huge twists and potholes that mark the roads here. Also, just as an FYI the traffic here drives on the "wrong side" of the road (like in England!) Father Pascal, the Cathedral priest who said our Mass on Tuesday, accompanied us to Chengena, which is his home village. When we arrived, we held an informal meeting in the "Collection Center" a large building where the soybean crop is gathered during harvest. This shelter, simple by US standards, is a great gift to the village. It was recently renovated by CRS—another sign of our Rice Bowl gifts at work here in Tanzania. At the meeting, it was a true joy to distribute Rosaries to the men and women of Chengena. These gifts came from my home parish in Fresno and were handmade by our parishioners. I couldn't help but smile when I saw how happy the Chengenans were to have their new Rosaries.
After our introductions and greetings, our new friends from Chengena walked us to their soybean fields. The walk was less than half a mile for us. I treked the clay path with a hoe across my shoulder, the hot Tanzanian sun beating down on my head. As we walked, the women explained to me that their hike to the fields from their homes takes well over an hour. Many of them walk carrying small children on their backs and supplies atop their heads. I was reminded once again of the strength of the mothers of Tanzania. When we arrived at the field, I received "hoeing lessons" from Luciana and Maria. The farmers of Chengena Village have no power tools. So their work is done with handtools such as hoes. The hoe I was using had an iron head, and its handle was made of bamboo. Imagine something as simple as a hoe being such a luxury item! It turns out that my hoeing skills can definitely use some improvement! Maria and Luciana had a great laugh at my farming abilities. I don't blame them! And I must say that after only fifteen minutes and less than a quarter of a row hoed, I was ready for a break! We spent over an hour amidst the growing soybean plants, learning how our Rice Bowl contributions directly support these families. From supplying different types of seeds to farm tools to instruction and cooperative selling consultation, Catholic Relief Services and their partners at Caritas are changing lives in these fields. I loved hearing these women tell us what they are doing to support their families and to better their lives with the proceeds they earn from their soybean crop. All too soon it was time to leave the fields and trek back to the village. Our walk back was uphill and the sun was beating down on us. I laughed at myself, imagining how tired I was after fifteen minutes of hoeing when these women spend hours and hours per day in the field… before and after caring for their families.
Selfies and Smiles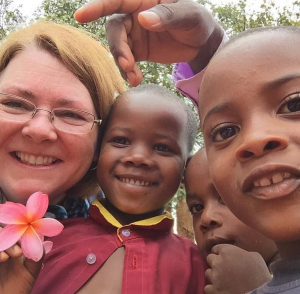 Once we were back in the village center, Father Pascal gave us a quick tour of his childhood parish, Our Lady of the Assumption in Chengena. And then it was time for my favorite time of the day, selfies with the adorable children of Chengena! Stay tuned next week when I share several of these… You can also find some of them on my Facebook and Twitter feeds. If you want to make a young one smile in this part of the country, pose for a selfie and then show it to them! And honestly, these children are so precious that it's impossible to be around them without falling in love!
What You Give Up for Lent Changes Lives Forever
I know I've been mentioning this a lot in these posts, but I truly want to underscore here the connection between our Lenten Rice Bowl sacrifices and the lives of these families in Chengena, Tanzania. Think for a moment about your garage at home. Ponder the power tools, the lawn mower, the work gloves and the fact that you even have a garage in the first place (if you do!) Now imagine the fact that for one of the farmers in Chengena, something as simple as a hoe can make a world of difference. A hoe can mean an increased crop, which can mean education, healthcare, a new roof, or a cow. If your family puts as little as five dollars into your Rice Bowl this Lent, it's possible that you could actually gift something like a hoe to a family here in Tanzania. For specific examples of similar gifts and how far your contributions can go in changing lives, take a look at the CRS Gift Catalogue. Stay tuned for more updates from Tanzania tomorrow! Our Lady of the Immaculate Conception, patroness of Tanzania, pray for us!
Subscribe to my mailing list to keep in touch with my traveling and projects:
Your email address will not be sold or spammed