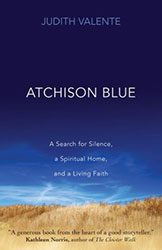 Atchison Blue ends with Judith Valente's affirmation: "I believe in a monastery of the heart." Deep down, even amid the busyness of our occupations and our obvious imperfections, there is a quiet place, a hidden wholeness or cloister, where God constantly whispers. Most of us can't retreat to a monastery and, frankly, monasteries are not retreats from the human condition. Wherever we go, we bring ourselves in our totality, the great joys and open-heartedness and our often petty and self-concerned responses to the world around us.
The Apostle Paul knew of this quiet place. Romans 8:19-27 is a hymn to the gentle Spirit moving through all things, human and non-human, seeking wholeness in the midst of our external troubles and internal divisions. All creation cries for wholeness. God is never without a witness in the non-human world.  Deep down there is divine movement in the migration of the wild goose, the oceanic adventures of whales, fluttering of butterfly wings, and the blinking of fireflies. This movement is continuous with the movements of God in our own lives. Even on our worst days, there is a voice of the Spirit, inviting us toward the dynamic, lively, interdependent peace that passes all understanding.
The honesty of Judith Valente's spiritual musings begs the response of the oft-conflicted Apostle. Even after encountering the living Christ, Paul still got into scrapes with fellow Christians and was a lightning rod wherever he went. Though clothed in Christ, he still contended with the "old creation," succumbing to that which he wished to avoid, forgetting what he sought to attain. Yet, always, like Valente, he was a work in progress, straining toward the goal, letting go of the past, and living in light of God's future.
In Romans 8, Paul describes the inner sanctuary that bubbles up within us even when we race in the opposite direction:  "Likewise the Spirit helps us in our weakness; for we do not know how to pray as we ought, but that very Spirit intercedes* with sighs too deep for words. 27And God,* who searches the heart, knows what is the mind of the Spirit, because the Spirit* intercedes for the saints according to the will of God."
"The Spirit helps us in our weakness," as we grouse about being overlooked or, as Valente discovers, feeling unappreciated and alienated from her stepdaughters. The Spirit reminds us that we can choose another path, begin again, and have sufficient stature to choose love rather than hate and reconciliation rather than alienation. The Spirit never abandons us but invites us to see ourselves clothed in Christ as we also see our neighbors as God's beloved children.
"The Spirit intercedes with sighs too deep for words." This isn't the sort of intercession in which God is "other" or needs to be placated by our prayers. Rather it is the constant undercurrent of divine presence, whispering, nudging, bringing events into our lives, providing dreams and intuitions, with the hope that someday we will notice, follow, and respond by building our own inner sanctuary. Perfection in the inner life and outer circumstances is mostly a dream. Valente notes a statement from the always perceptive Henri Nouwen, "A monastery is not built to solve problems but praise the Lord amidst them." Troubles come, old habits raise their heads, anxieties emerge, and yet "God's mercies are new every morning." We can begin again: we can move from fear to praise and anxiety to affirmation.
The healing and guidance we need, Valente aptly notes, may come from "simply listening to the voice of God." That voice is everywhere, but it is found most especially in the monastery of the soul where God provides possibilities, insights, and the energy to embody them in the concreteness and bustle of life. In opening to this voice, we don't retreat from the world but experience what Valente calls "the mysticism of everyday life."
God is still speaking, as the United Church of Christ's affirmation points out. The monastery is always here – within us and in the hearts of others. In the stillness of inner prayer, praying with our eyes open, and breathing in calm where there might be anxiety, we can experience God's whispers in sighs too deep for words, reminding us that we are more than our problems and that in listening we find holiness in ourselves and on the pathways of life.*