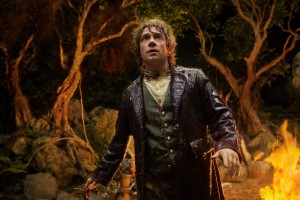 The filmmakers took one children's book and expanded it into three movies.
So I've taken this first movie and expanded it into two movie reviews…
Here are my reviews of The Hobbit: An Unexpected Journey.
At Seattle Pacific University's Response magazine: "Back to Bag End."
The wearying length of An Unexpected Journey suggests a more appropriate title: The Bloated Adventures of Bilbo Baggins.

But it could have been worse.
And at Image's blog – Good Letters: "The Hobbit on Steroids."
But where Tolkien served the head and the heart, Jackson serves the appetite for adrenalin rush. In this sense, he's Bilbo's opposite. He's only comfortable doing what is outrageous and chaotic. For him, it would be a real adventure to delve into quieter moments, soul-searching, and a thoughtful sense of pacing and progress.
Make no mistake—when it comes to proving himself the world's greatest producer of fantasy spectacle, Jackson is four-for-four.
Also worth reading:
Steven Greydanus reviews The Hobbit: An Unexpected Journey.
Matthew Dickerson on "The Foolish Wisdom of Bilbo Baggins"