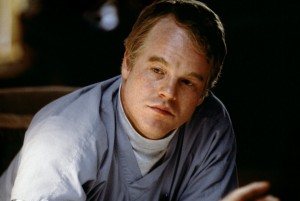 I feel like I've been hit by a truck this morning, trying to absorb the reports that drug addiction has apparently taken the magnificent actor Philip Seymour Hoffman from us.
In a way, we mourn the deaths of actors because we love the characters we played, not because we knew who they were as individuals. And it's plain to see that Hoffman was fighting a terrible battle behind closed doors, while audiences enjoyed what he could do to bring other personalities to life.
But we did know some things about him. For example, we know that he was enthralled by the life of Christ. If you read anything about Philip Seymour Hoffman this week, read this, by the insightful and inspiring Fr. James Martin, SJ: "The Gospel According to Philip Seymour Hoffman."  When I read it a few years ago, my admiration for Mr. Hoffman increased significantly.
Here's a piece of it:
His perspective changed when one of his two sisters became active in a Christian evangelical movement, to which she still belongs today. She encouraged her brother to accompany her to meetings with her friends, and Phil went along happily. "There was something that was so heartfelt and emotional," he said. "Nothing about it felt crazy at all. And my sister was certainly the sanest person you could ever meet. It all felt very real, very guttural, even rebellious."

The idea that a young person could be sane, generous, intelligent and Christian held out great appeal for him. So did the palpable sense of community he felt with his sister and her friends. Still, he held back from the total commitment that his sister made. "It was a little too much for me," he said. "And by that time I was more into partying and acting."

So Phil, who describes himself as a believer and someone who prays from time to time, carried this positive approach to Christianity with him into the Public Theater during the rehearsals for the new play about Jesus and Judas. "My time with my sister and her circle of friends is something I still think about today." He noted that he is often defensive about the way that many actors react to the idea of evangelical Christians. Is there a bias, I asked, against that kind of person in the acting community?

"Absolutely!" he said. "It pisses me off that there is this knee-jerk reaction against them. There is certainly an antipathy against them in the acting world, just like there is an antipathy in the politically liberal world. And, as a result, the liberal Christian is not heard from as much. And, you know, a liberal person who has a deep belief in Christianity can be a very powerful influence on things."

His natural curiosity also prompted a desire for further study of the Gospel narratives. Consequently, Phil was sometimes the most animated person at the table readings at the Public Theater, especially when we talked about Jesus of Nazareth. "My image of Jesus is someone who is exciting," he said after the show had closed. Though that word is too infrequently used to describe Jesus, I agreed with him.

"Were he alive today, he would be causing havoc!"
Today, I lend my voice to the chorus who are lamenting the loss of this extraordinary talent. But I also pray that God will have mercy on Mr. Hoffman, and that this tormented man will now know peace and rest and everlasting joy in the presence of his Master.
Meanwhile, I wonder about those in my own circle who are are struggling behind closed doors the way he struggled. I'm fairly certain I could do more to reflect the comforting and invigorating grace that gives me hope every day.
Moreover, I am inspired to remember that even if all of my worldly dreams come true and I gain riches and fame and respect, I am still vulnerable. I have no place to speak any words of judgment over the circumstances of Hoffman's death. In my moments of clear-thinking, I know that I have my own addictions. I have my own secrets that exist in direct contradiction to what I profess and what I long to be. By grace, I've been spared all kinds of devastating consequences. Lord have mercy on me, a sinner, and upon us all.
•
In memory of Philip Seymour Hoffman, I offer my series of posts about the film the featured what most would agree was his greatest performance — Paul Thomas Anderson's The Master — as well as a review of Doubt.
•
2/2/2014 UPDATE: Don't miss this heartfelt reflection from Alissa Wilkinson.