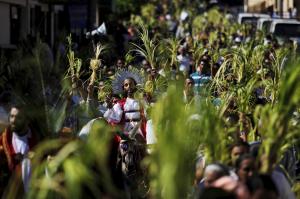 It's Sunday in Passover Week—later for Christians it becomes the first Palm Sunday—and it's a big day. It includes a healing miracle, some advance planning, a procession with an enthusiastic crowd, and a disappointing ending. In church Palm Sunday liturgy begins in sync with that ancient mood, but soon we look ahead to the somber mood of Good Friday. Mark's story of that Sunday before Passover turns sober quickly as well.
Seventeenth in a series on "The Worldly Spirituality of Mark's Gospel"with help from Ched Myers' Binding the Strongman: A Political Reading of Mark's Story of Jesus. The Introduction and a Table of Contents are HERE.
We name the crowd of Passover celebrators in Jesus' last week fickle. On Palm Sunday they are wild about Jesus, hailing him as "the one who comes in the name of the Lord."  Friday they're calling for his execution. That's to misrepresent them, though.
The crowd's enthusiasm on Sunday responds to their hope for a savior from the oppressive power of Rome. By Friday, if not before, they realize their mistake. Their hope and Jesus' purpose are not the same. On Sunday they imagine a triumphant leader who will restore "the kingdom of our father David." (11:9-10) By Friday they are sure that isn't going to happen. But, Myers shows, they may have had doubts already by Sunday evening.
Palm Sunday begins well
It's hard to distinguish days exactly in Mark's account. I'm beginning Palm Sunday in the middle of verse 46 of Chapter 10. Jesus arrives in Jericho Saturday evening (46a) and leaves Sunday morning (46b). Immediately something happens that turns out to be the best part of Jesus' day.
Bartimaeus, a blind beggar, calls out, ignoring the bystanders who try to silence him, "Jesus, Son of David, have pity on me." His next words on being called into Jesus' presence serve as symbol for much more than physical sight: "Lord, I want to see." Jesus cures him. "Go your way; your faith has saved you." (Mark 10:46-52)
The last time Jesus cured a man's blindness, it took two tries. This time the miracle comes off without a hitch, and the man sees right away. That earlier miracle was a metaphor for the difficulty the disciples and we have "seeing" who Jesus really is. Bartimaeus "sees" right away and does something remarkable in consequence. At Jesus' words "Go your way" he decides for himself what he will do. Without even being asked, he follows Jesus "on the way." Mark's readers get another clue that discipleship is possible.
The entry into Jerusalem
Jesus plans his entry into the city of Jerusalem carefully. He intends to squelch the triumphalistic fervor surrounding the idea of messiah. His entry will not look like a military parade. It will not challenge the Roman army, marching into the city at about the same time, there to enforce order during the politically dangerous Passover festival.
At Jesus' instruction the disciples commandeer a colt for Jesus' ride into the city. Some bystanders express surprise.
"What are you doing, untying the colt?" (Mark 11:1-5)
Is it because the colt belonged to someone else or because it's only a colt, not a warhorse?
In Mark the description of this entry into Jerusalem is much sparer than in the three Gospels that came later. There are the shouts of "Hosannah!" and cloaks and palm branches spread out before Jesus, but no more. The demonstration winds down as it approaches the city. Mark's account of the day ends with these anti-climactic words:
He entered Jerusalem and went into the temple area. He looked around at everything and, since it was already late, went out to Bethany with the Twelve. (Mark 11:11)
Mark's purpose
If I had told the story, I would have made a bigger deal out of this "looking around" in the temple. I would have said Jesus was "casing the joint" in preparation for the next day's demonstration. But maybe Jesus already knew all he needed to know to pull off the temple disruption he planned. Anyway, Mark's telling depends more on contrasting Jesus' reality to the crowd's nationalistic expectations. Sunday's commotion ends in a whimper rather than a bang.
Mark wrote shortly before or shortly after the Roman army destroyed a rebellious Jerusalem. Many in Mark's community may have thought to join the rebels—or wondered if they should have. Mark, whose Gospel is shot through with its own political purpose, doesn't let the crowd's feverish expectations take hold of the story. Mark's readers, with nationalistic aspirations of their own, feel the letdown. But, then, they know what's coming.
Image credit: Times India