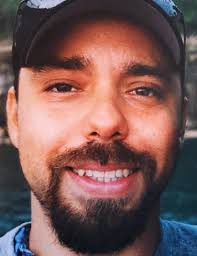 I wrote the Prayers of the Faithful for the Mass of Resurrection for my son-in-law Carlos Ortega. The Gospel reading was the Beatitudes. That reading and the second petition sat almost right next to each other in the liturgy:
Blessed are they who mourn, for they will be comforted. (Matthew 5:4)

Be praised, O Lord, for all of us gathered here, may we receive the comfort you promised to those who mourn, we pray.
It caused me to think about the comfort we pray will come and the Kingdom of Heaven in those Beatitudes and the rest of Matthew's Gospel. What exactly is the comfort Jesus promised to us who mourn Carlos's passing and who will sooner or later follow him in death?
Thinking of Papa Carlos Ortega in heaven
My daughter and her three young children have each other and a beautifully supportive network of family, friends, and community. One of the children tried not to cry because her papa in heaven would not want to see her sad. (Actually he never did want to see his children sad.) This child, like all the others in the family soon did find tears to cry. But thinking of their father in heaven, a "better place," did seem to offer some comfort to mourners.
In Luke's Gospel Jesus blesses the people who are not just mourning.  They are shedding real tears over their state in life. "Blessed are you who weep now, for you will laugh." (Luke 6:31) Was Jesus thinking about laughter in the place we call heaven? Patheos blogger Fellow Dying Inmate says the New Testament doesn't have much to say about that place, and I think he's right. "Heaven" in Matthew is often a respectful way of saying "God." Elsewhere in the New Testament, the Kingdom of God is the kingdom that God will establish on earth.
Souls in heaven
In the Catholic world we can't get away from the Church's teaching about souls in heaven. We differ from Protestants, or at least some Protestants. A Lutheran pastor friend will only say that after death we are "asleep in the Lord."  We also don't believe in reincarnation. (Carlos, always the seeker, and lots of others I know do.) The Church doesn't imagine souls floating free from material prisons or clothing. They're not waiting in heaven for another dive into this world and a new body.
A soul without a body is incomplete. Rather, it's not even a thing. The best explanation I've heard on such an abstract subject says that soul and body, or matter, are each a principle, or a beginning, of one real thing. Analogously, says one thinker, a point is the principle of a line. Compared to a line, a point is nothing; it has no length. But to make a line, you start with a point. So, how can there be souls in heaven? Some speculate that God provides a kind of substitute matter for those souls. I just admit that the how is something I don't understand, whether we're awake or asleep in heaven.
Comfort on earth?
Even among Protestants, as that Lutheran pastor says, the idea of sleeping souls is not very popular. We like to think of our loved ones in heaven looking down on us here below and interceding for us. If so, then perhaps Carlos Ortega is happier when he see us happy and sad when we are sad. Or at least less than perfectly happy because of the sufferings of the ones he left behind. Surely loved ones in heaven can see our trials even better than we can. And we see them well enough. I find little comfort in thoughts about the statistically probable future waiting for the younger ones I will leave behind.
Scientists say to have a 67 percent chance of avoiding the worst effects of global heating we must change. We must  cut emissions of greenhouse gases in half by 2030 and to zero by 2050. Worldwide we're still increasing emissions, and a just-completed COP25 hasn't faced up to that. I can't imagine how to calculate statistically a lot of other problems. Like growing fear, distrust, and hatred among individuals and groups people. Like the suffering from wars, migrations, hunger, diseases, and more or less natural catastrophes.
But God's providence, by definition, doesn't exactly track with statistics. Writing those petitions for Carlos's funeral Mass, I tried to imagine the kind of comfort that he would wish for. It certainly has more to do with his wife and three children and the world that will continue to be their home than with himself.
Prayers of the Faithful for the commemoration of Carlos Ortega, December 17, 2019
Be praised, O Lord, for our friend, brother, father, husband, son Carlos, whom you gave us for a while, receive him with loving embrace into your everlasting kingdom, we pray.
Be praised, O Lord, for all of us gathered here, may we receive the comfort you promised to those who mourn, we pray.

Be praised, O Lord, for seekers of knowledge and wisdom, for dancers and lovers, for kind and gentle people, may their gifts help others to know you, the source of all good gifts, we pray.
Be praised, O Lord, for the courage and strength of people who are suffering, help us find cures for cancer and other life-threatening illnesses, guide us to a world where people share one another's burdens, we pray.
Be praised, O Lord, for the beautiful land and people of Venezuela, bring peace and stability to that rich but troubled country, Carlos's native land, we pray.
Be praised, O Lord, for Carlos's adopted country, the United States of America, make her rich in charity and justice, we pray.
Be praised, O Lord, for your Church, which received Carlos in Baptism and now in this service commends him to you, may we see the coming of your kingdom on earth as in heaven, we pray.
Eternal rest grant to Carlos, O Lord, and let perpetual light shine upon him. May he rest in peace!
Image credit: Williams Dingmann Family Funeral Home