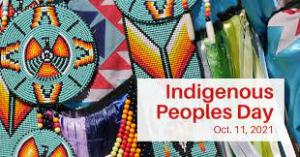 President Joe Biden became the first president to declare the second Monday in October Indigenous Peoples' Day. In a separate statement, October 8, he also proclaimed the same date Columbus Day. Both proclamations paid tribute to the sufferings imposed on Native American communities. They honored indigenous peoples contributions to the country's life and culture.
Three years ago I wrote about this issue after the city of Mankato, Minnesota, joined other cities in replacing Columbus Day with Indigenous Peoples' Day. In part Mankato was acknowledging its part in the many injustices against native people in this country. Mankato was the scene of the largest mass execution in U.S. history after the 1862 Dakota War. That war was in response to illegal and corrupt practices of the Sioux Agencies on the Minnesota River. Some prominent figures in Minnesota history benefited from these shady deals. Thirty-eight 38 Dakota men were hanged.
Columbus Day
In his "Proclamation on Columbus Day, 2021," Biden referenced the story of the Italian explorer. He recognized Italian Americans' contributions to our country's traditions and culture. He also insisted that we face honestly "the shameful episodes of our past." Among these Biden named violence against Native peoples, theft of homelands, and introduction of diseases. Biden pledged to invest in Native communities and honor "solemn and sacred commitments to Tribal sovereignty."
Today, let this day be one of reflection — on America's spirit of exploration, on the courage and contributions of Italian Americans throughout the generations, on the dignity and resilience of Tribal Nations and Indigenous communities, and on the work that remains ahead of us to fulfill the promise of our Nation for all.
From 'A Proclamation on Indigenous Peoples' Day, 2021'
Since time immemorial, American Indians, Alaska Natives, and Native Hawaiians have built vibrant and diverse cultures — safeguarding land, language, spirit, knowledge, and tradition across the generations.  On Indigenous Peoples' Day, our Nation celebrates the invaluable contributions and resilience of Indigenous peoples, recognizes their inherent sovereignty, and commits to honoring the Federal Government's trust and treaty obligations to Tribal Nations.
…
For generations, Federal policies systematically sought to assimilate and displace Native people and eradicate Native cultures.  Today, we recognize Indigenous peoples' resilience and strength as well as the immeasurable positive impact that they have made on every aspect of American society.  We also recommit to supporting a new, brighter future of promise and equity for Tribal Nations — a future grounded in Tribal sovereignty and respect for the human rights of Indigenous people in the Americas and around the world.
…
The contributions that Indigenous peoples have made throughout history — in public service, entrepreneurship, scholarship, the arts, and countless other fields — are integral to our Nation, our culture, and our society.  Indigenous peoples have served, and continue to serve, in the United States Armed Forces with distinction and honor — at one of the highest rates of any group — defending our security every day.  And Native Americans have been on the front lines of the COVID-19 pandemic, working essential jobs and carrying us through our gravest moments.
The proclamation concludes:
On Indigenous Peoples' Day, we honor America's first inhabitants and the Tribal Nations that continue to thrive today.  I encourage everyone to celebrate and recognize the many Indigenous communities and cultures that make up our great country.
Image credit: University of Wisconsin, Madison