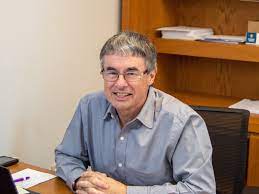 I have written about New Testament texts and the historical Jesus in the context of life in early first-century Palestine. (See here, here, and here for examples and links to more posts.) So I felt fortunate to discover a Bible scholar doing similar work in a broader context. Warren Carter studies New Testament writings in relation to the dominating Roman Empire. This post introduces the prolific author Warren Carter and his work. A following post will examine one work in particular: Jesus and the Empire of God.
Warren Carter was born in New Zealand and has studied in New Zealand, Australia, and the United States, with a doctorate in New Testament from Princeton University. Since 2019 he is the LaDonna Kramer Meinders professor of New Testament studies at Phillips Theological Seminary in Tulsa, Oklahoma. Previously he taught at Brite Divinity School in Fort Worth, Texas, and at Saint Paul School of Theology in Kansas City. At Brite Carter four times received an award for teaching excellence, voted on by students.
Carter is an ordained Baptist minister and also associates with the Disciples of Christ. The broad appeal of his work is indicated by the fact that he has written for both Catholic and Protestant publishers. You can also find Dr. Warren Carter sermonizing and lecturing on Youtube.
'Fall from Grace' documentary film
Carter appeared in the documentary "Fall from Grace," a film about a particularly reprehensible example of hate promoted by a Christian group.  In the mid 1990's Rev. Fred Phelps began spreading hatred for LGBTQ persons. The documentary film "Fall from Grace" explored "the hate-filled world" of Phelps and his Westboro Baptist church. Operating from his pulpit in Topeka, Kansas, Phelps' group participated in nearly 25,000 anti-homosexual demonstrations around the world. The congregation of 75 members gained increased attention after choosing military funerals for their picketing actions. "God hates fags," "Thank God for 9/11," and "Thank God for dead soldiers" were among the messages these sign carriers broadcasted. (From a review of "Fall from Grace" by IMDDB Ratings)
Warren Carter appeared in the documentary as an expert on the Bible that Phelps and his group claimed to follow. He presented "a different, more contextually sensitive view of the Scriptures":
Carter said homosexuality is mentioned only three times in total in the New Testament, showing that the Bible is fairly indifferent to the issue and that Phelps' toxicity is out of proportion to its original text. Carter went on to point out that these passages referred to pedophilia, which today would be correctly identified as child sexual abuse. (from "Warren Carter" in Encyclopedia, Science News & Research Reviews)
Published work
Carter has published at least 17 books and numerous articles in scholarly collections. They range from essays on readings from the Common Lectionary to commentaries on the Gospels of Mark, Matthew, and John to works on New Testament issues and methods of interpretation. These are a few examples:
"Three Essays on Joel 2:1-2, 12-17 (Ash Wednesday reading), Hebrews 10:16-25 (Good Friday), Matthew 28:1-10 (Resurrection of the Lord)." In Connections: a lectionary commentary for preaching and worship. Published 2019.
Matthew and the Margins: A Religious and Socio-Political Reading. Orbis Books, 2000.
Mark in the Wisdom Commentary series. Liturgical Press, 2019.
John: Storyteller, Interpreter, Evangelist. Baker Academic, 2006.
God in the New Testament. Abington Press, 2016.
With Amy-Jill Levine, The New Testament: Methods and Meanings. Abingdon Press, 2013
Carter's book on the Gospel of Mark for the Wisdom Commentary series received two awards: the Academy of Parish Clergy 2020 Reference Book of the Year and the Association of Catholic Publishers first place award in Scripture, 2020.