Elevating the Conversation with the Gay Community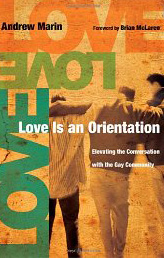 by Andrew Marin
Copyright: 2009
Publisher: IVP Books
Awards for Love Is an Orientation:
2010 Outreach Magazine Resource of the Year Award: Culture Category 
2010 Leadership Journal Golden Canon Leadership Book Award
Top 20 Best Overall Books of 2009 by Relevant Magazine
Top 20 Best Overall Books of 2009 by Englewood Review of Books
Top 10 Best Non-Fiction Books of 2009 by Christian Manifesto: Lime Award
Named in 2011 as "One of the All Time One Hundred Books That Have, Should, Or Will Create Christian Culture" by Besides the Bible
Summary:
Andrew Marin's life changed forever when his three best friends came out to him in three consecutive months. Suddenly he was confronted with the gay, lesbian, bisexual and transgender community (GLBT) firsthand. And he was compelled to understand how he could reconcile his friends to his faith.
In an attempt to answer that question, he and his wife relocated to Boystown, a predominantly GLBT community in Chicago. And from his experience and wrestling has come his book, a work which elevates the conversation between Christianity and the GLBT community, moving the focus from genetics to gospel, where it really belongs.
Why are so many people who are gay wary of people who are Christians? Do GLBT people need to change who they are? Do Christians need to change what they believe? is changing the conversation about sexuality and spirituality, and building bridges from the GLBT community to the Christian community and, more importantly, to the good news of Jesus Christ.
Practical Ways to Build Bridges with the Gay Community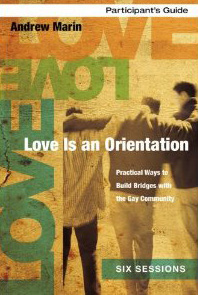 by Andrew Marin
Copyright: 2011
Publisher: Zondervan; Paper/DVD edition
Summary:
Much of today's culture defines bridge building and reconciliation as a one-way street that leads to full theological, political and social agreement. Yet Christ demonstrated a different path of religious and cultural engagement to establish his kingdom here on earth. In light of such countercultural principles, the Christian community needs a new view on the issues that divide conservative believers and the lesbian, gay, bisexual and transgender (LGBT) communities. Using the practical applications Andrew Marin has learned over the last decade of living and working in the LGBT neighborhood of Chicago called Boystown, as well as his international speaking and consulting ministry, this six-session, video-based study offers a variety of practical teachings, insights and life lessons. Rather than avoiding the topic of homosexuality, Love Is an Orientation aims to equip the Christian community to bridge the gap between LGBT and religious communities. This is not a group study about 'fixing' gay people. It's about getting to know them, engaging them, and loving them like Jesus does. After this study, you, your small group and your church will know what it means to peacefully and productively build bridges with the LGBT community.
Other Publishing
Book Forewords:
Belong, Believe, Become: One Pastor's Journey to Hugging a Man in his Underwear by Nathan Albert (Winter 2014)
Talking Taboo: American Christian Women Get Frank About Faith edited by Erin Lane and Enuma Okoro
Book Chapters:
"Theology of Embodiment as Healing between the Church and LGBT Community" in Doing Theology for the Church's Mission (Winter 2015, forthcoming) by Wm. B. Eerdmans. Edited by Tom Noble and Jason Sexton.
"Lessons from Infertility" in Father Factor: American Christian Men on Fatherhood and Faith edited by Andy Campbell (Fall 2014)
"Divisive Questions in Christian Ethics" in Banned Questions about Christians edited by Christian Piatt
Matthew 10 in The Way Bible (March 2012) by Tyndale Publishers. Edited by Mark Ostriercher.
Journals:
Pastoral Care to those Suffering from Traumatic Memories (Bible Society Journal, Winter 2014)
Cultivating Intellectual Virtue for Civil Discourse in Culture Wars (Journal of the Biola University Center for Christian Thought, Fall 2014)
Winner Take All? — A Political and Religious Assessment of the Culture War Between the LGBT Community and Conservatives (Journal of Political Theology, August 2011)
Mission and the Gay Community (Anvil Theological Journal (UK), January 2010)
Why the Giglio Debacle isn't the end of Public Evangelicalism (Leadership Journal, January 2013)
Andy Stanley, Al Mohler and the Theological Tensions of Homosexuality (Leadership Journal, May 2012)
The Future of College Ministry: Shifting Relational Paradigms to the First Century (Youthworker Journal, June 2011)
Learning to Live and Love with the Gay Community (Mission Catalyst Journal (UK), March 2011)
Beyond 'Us versus Them'' (Leadership Journal, June 2009)
Project Love (Q Journal, April 2008)
Print:
What is an Evangelical? (Sojourners, October 2011)
Finding God in Boystown (RELEVANT Magazine, September 2009)
It's Our Fault: Examining the Gay vs. Christian Culture War (Neue Quarterly, Spring 2009)
Online:
Trayvon Martin and the American Judicial System (Red Letter Christians, July 2013)
NBA Player, Jason Collins, Comes Out (Red Letter Christians, May 2013)
Celibate Gay Bishops Permitted in Civil Partnerships in the Church of England (Red Letter Christians, January 2013)
Would Jesus Fight a Legal Battle Against Same-Sex Marriage? (Philosophical Fragments, December 2012)
Chick-Fil-A, Homosexuality and the Problem with American Civic Engagement (Red Letter Christians, August 2012)
From HIV to HAI (People of the Second Chance, #LabelsLie Campaign, January 2012)
Toward a Better Future for Gays at Evangelical Seminaries (Patheos, November 2011)
Starbucks, Willow Creek, and Christian Homophobia?  (Patheos, August 2011)
An Understanding of Radical Love (Red Letter Christians, July 2011)
When Jesus Quoted the Old Testament…And Why It Matters (Red Letter Christians, May 2011)
Faithful Christianity Means a Walking Hypocrite? (Red Letter Christians, April 2011)
No 'Christian Compassion' in Response to Anti-Gay Bullying, Suicides (Religious Dispatches, October 2010)
When Teen Suicide is a Mainstream Medium (Crosswalk, October 2010)
Evangelicals and Gays: A New Medium of Engagement (Patheos, April 2010)
Church Governance and Homosexuality (Jesus Creed, April 2009)