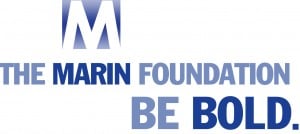 www.themarinfoundation.org
Mission:
The Marin Foundation is a 501c3 non-profit that works to build bridges between the LGBT community and conservatives through scientific research, biblical and social education, and diverse community gatherings.
Approach:
Our unique approach strategically partners with conservative and progressive religious entities and the LGBT community; as well as with churches, NGOs, higher educational institutions and government agencies to make a sustainable difference in today's religious and secular cultures.
Principles for Cultural Engagement:
Our focus is to individually, corporately and politically shift what is currently seen as the acceptable medium of cultural engagement—the polarizing back-and-forth, win-lose rhetoric—onto elevating the conversation. We do this through a worldview of engagement that all might experience dignity, love and reconciliation with faith and each other. By creating intentional spaces to live in the tension of what theologically, socially and politically divides us, we continually seek productive means that carve new paths forward.
The Bridge Building Movement:
We are a Movement shaped by bold individuals of reconciliation; whose orientation is one of love, who live in the tension and refuse to allow hate, disagreements or past experiences cause division in any community.
LOOK AT THE MARIN FOUNDATION'S CURRENT PROJECTS
GIVE A TAX-DEDUCTIBLE DONATION TO ONE OF THE MARIN FOUNDATION'S PROJECTS