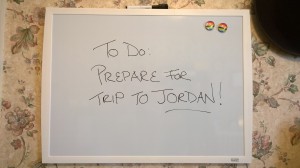 They tell me it's a good problem for freelancers to have – racking up so many assignments that your plate is completely full. I would agree. I do have a good problem right now. But there's a flip side to every plate, and on the other side of mine is chaos.
Don't get me wrong, I feel so blessed that God in his kindness and mercy has given me the talent he has and the ability to put it into action. It's privilege for me to write and speak for and about the Church.
For me, the problem isn't the work itself, but rather the challenge of keeping it all organized. Add to that the responsibilities of the many hats I wear and you end up with the equivalent of refrigerator soup for writers – mish-mash stew.
So, I've gotten myself a new organizational method to help me keep track of what I have to do and when. I got a large dry erase board with markers and, of course, an eraser. From now on this is my Command Central.
I personally think it's way cool, but I want to share with you what I think is even cooler – what I've written down as #1 on my To-Do List:
Prepare for trip to Jordan.
I can hardly believe it. I've been accepted to the Jordan Tourism Board's Religious Journalist/Blogger Press Tour, scheduled for April 9-19, 2015! I am so shocked, so grateful, and so excited!
We'll be visiting biblical sites, including both Old and New Testament sites like Mount Nebo (where Moses was shown the Promised Land and is now buried) and Bethany Beyond the Jordan (where St. John the Baptist ministered and Jesus was baptized).
We'll see other fantastic sites, too, like Wadi Rum, a world heritage destination that T.E. Lawrence (Lawrence of Arabia) called, "Vast, echoing and God-like. We'll share a meal in a Bedouin-style camp and play Indiana Jones as we explore Petra, a beautiful rose-red city carved out of rock millennia ago and hidden in a desert canyon. Now I just need one of those Indiana Jones-y hats.
We'll have briefings and visits to church-supported programs and ministries, including the opportunity to interview Iraqi Christian refugees who have escaped the claws of ISIS. We'll also have briefings with Jordanian officials. It's not on the itinerary, but I'm sure hoping to get a glimpse of the King and Queen of Jordan!
Can you see now why I needed a new organizational system?
With the trip less than three weeks away and a truck load of assignments and mommy-things to finish up before I go, there's a LOT to keep track of!
In addition to preparing for my trip, there's another must-do item to put up on the board, and that's this: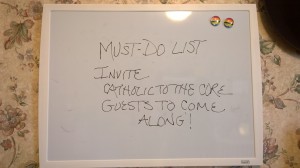 I'll be posting here about the trip so that you'll be able to experience what I experience in the amazing country of Jordan! Won't you come along?
Additionally, I'm taking my famous "Little Blue Blank Book" on this trip. If you're not familiar with my travel tradition, it works this way: Whenever I prepare for travel, I solicit the names and/or petitions of folks who would like me to pray for those people and intentions on my trip. I carry the b ook in my backpack wherever I go and stop at each holy place I visit to pray for all the folks whose names are written in those pages.
This helps me keep focused on what's most important: My travels are a gift from God, and I want to share that gift with as many others as possible as a way of passing it on.
That's two ways you can come along with me to Jordan:
Follow this blog.
Submit names of people you'd like me to "carry" with me and pray for in the combox below (Unless you have the person's permission, I ask that you don't use recognizable identifying information out of respect for their privacy.) Please let your friends and family know about my offer so that they can take advantage, too!
I'd appreciate prayers in return, if you can. This is going to be a demanding trip.
Are you ready? Let's go!
Images: Marge Fenelon