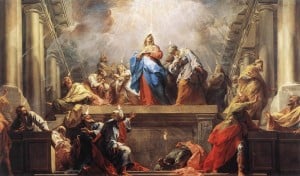 Veni Sancte Spiritus – or Come Holy Spirit in English – is a traditional Pentecost hymn that beckons the Holy Spirit to descend on us all, to bring his Fire of Love and transform us in Christ.
I found an absolutely lovely rendition of the Veni Sancte Spiritus that I think you'll enjoy. Listen, give thanks to the Spirit, and pass the message on: Veni Sancte Spiritus!
On this feast of Pentecost I wish you all many blessings!