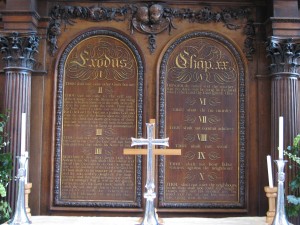 I walked into my husband's home office and saw it on his work table: A miniature artificial Christmas tree that we'd bought on clearance at the end of this past Christmas season. We're saving it to bring to my mom in the retirement home for next Christmas.
I mean, we were saving it. My mom died yesterday in the early morning hours.
Now I'm in that in-between stage of finding out about Mom's death and putting her to rest. I already had a light work load because I'd backed off on assignments in order to spend as much time as possible with my mother before the end. Upon notification of her death, I was able to put a hold on everything else. I'm planning the memorial, but have to wait on others before I can make final arrangements.
I'm stalled in a vacuum, and it's giving me time to think and digest. I'm grateful for that.
In these empty hours, I've been repeating my little prayer, a mantra of sorts:
Give thanks for the womb that bore you.
I formed it decades ago while in prayer. I'd been mulling over what my dad had taught me about respecting parents and tending to them in their old age. He not only said it; but he also lived it himself. I learned from his example, and imitated it.
At least to the best of my ability.
It's been a tough road with my mom. She was a very troubled woman, and that made it tricky to get too close. Because of that, my siblings and I had to set boundaries that often spiked the curiosity of others.
But the boundaries I set were never meant to be permanent. I left the door open just enough for God's mercy to squeak through.
You see, ultimately, none of this – my  mom, her troubles, my reactions – was up to me. It was up to God.
And so I surrendered it all to him.
I also hung to my credo that there's a reason for everything and it's corollary that the truth always comes out.
My mom isn't my mom by accident, but by God's design. He chose that womb, her womb in which to bring me to life. He knew what he was doing because he's incapable of making mistakes.
His words to Jeremiah are true for all of us:
Before I formed you in the womb I knew you,
        And before you were born I consecrated you; (Jer 1:5)
Meditating on that made me realize that I have much to be grateful for – to God, and to my mother for having been the instrument through which God has given me all that I am and have.
I give thanks for the womb that bore me every time I look at my wonderful husband and amazing children. I give thanks for all the awesome people who make up my circle of friends.
I give thanks every time I write a page of copy or give a presentation, or when I compare notes with a colleague.
I give thanks even in the hard times, because I know it's God way of pruning me and preparing me for Eternity.
Without my mom, I wouldn't have the gumption, determination, or moxie that I do.
My little prayer-mantra has helped me to keep things in perspective and to keep open the door to mercy – Gods, of course, and also my own.
In the last several months of my mom's life, I was able to visit fairly often with her, and more so as it became apparent that the end was near. God had flung the door wide open, and the time I spent with her was both fruitful and healing.
That is a gift of God's grace.
In these days of re-assessing and re-grouping since Mom's death, I've been praying fervently for all those folks who have troubled moms, and for the troubled moms, too.
I've been asking God to shimmy open that door of mercy, or break it down entirely if it's been slammed shut. I've been asking him to instill in the hearts of his children gratitude for the wombs that bore them.
There's just so very much for which to give thanks.