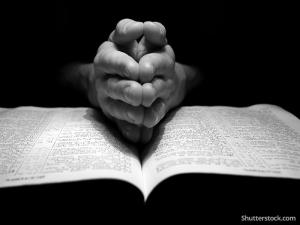 Prayer.
Talking about our prayer life often makes us feel scrutinized or nervous. We're easily embarrassed to talk about it, or apologetic for it. Some of us don't know how to pray, or we don't pray enough, or we only pray at the last minute when it's some kind of emergency. I can't remember ever meeting anyone who thought they prayed often enough, earnest enough, or faithfully enough.
Making matters worse, maybe we don't understand prayer, or no one's ever told us how to pray. Talking with a Father who loves you and wants to hear from you should feel like a delight and not a duty.
Prayer is not something you have to do. Prayer is something that you get to do! God invites us to pray by promising in Jeremiah 29:12, "…call upon me and come and pray to me, and I will hear you." In its most general sense, prayer simply means communicating with God. This can be done audibly as God hears our words, or silently as God knows our thoughts. Prayer is the primary way we engage in relationship with God, and just as communication is key to interpersonal relationships, it is vital to our relationship with God. That's what prayer is: having a conversation with God.
Moreover, because communication is designed to run two ways, prayer can include both speaking to God and hearing from God.
This conversation can be done anywhere and in a variety of ways, whether in a traditional posture of bent knees, bowed head, and clasped hands or in more natural ways, as when we're driving the car, mowing the yard, or shopping for groceries. We can journal our prayers, or pray through the writing of songs or poetry. We can shout our prayers, or we can maintain a receptive silence, listening for the still, small voice of God.
However we pray, wherever we pray, the goal is to always eagerly and humbly cultivate our relationship with our heavenly Father. In prayer we are connecting with the God who loves and cares for us.
Sometimes prayer moves the hand of God. More often, prayer changes our hearts as we capture something of God's heart and are brought into agreement with and trust in him.
We were created by God, in the image of God, and we were designed to be in relationship with God. Therefore, the primary purpose of prayer is nurturing and growing our relationship with our Father, not unlike a child who has frequent conversations with a parent who loves them.
My wife Grace and I were asked by someone at our church, "Have you ever had seasons where it was difficult to pray with your wife and kids? What did you do (or what do you suggest I do) to begin changing that?" This is a great question and the following video provides our answer.