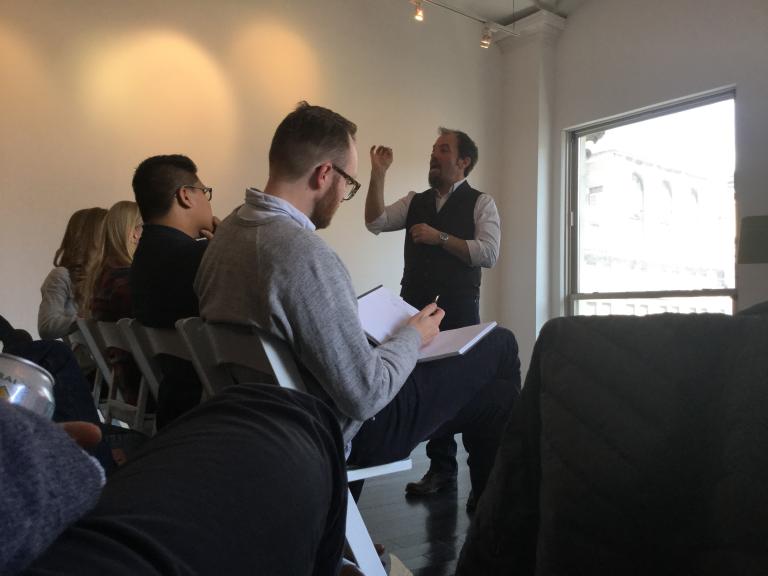 Why is it that simply thinking our way through problems doesn't produce lasting change? What hidden force lies below the surface in the people we are trying to work with, the force that seems to block real connection, communication and collaboration?
Thinking Entrepreneurs
Today, I had the privilege of joining 50+ entrepreneurs, business people, and pastor-types at Fivestone in Midtown Manhattan for a lunch and lecture. James K. A. Smith led us into some deep thinking about the force under the surface, the imagination. The imagination is our feel for the world—an intuitive sense we have regarding the Story we are in. Imagination precedes (and shapes) thinking.
These ideas play large in his current book, You Are What You Love. And they can shape our approaches to leadership, sales, sharing our faith—really persuasion of any kind. Smith encouraged us to get in touch with the rival stories our hearts may be catching in order to pursue true integrity. He urged us to consider this subterranean flow as we ponder our interaction with others and our attempts at influence.
A Surprising Driver of the Vocational Divide
As readers of this blog on faith and work, Smith offers us a deep explanation for the bi-furcated, compartmentalized approach to work that many of us inherited and live (See The Vocational Divide on this). We are subconsciously living in a story where God is absent from certain spheres of life (or not real at all). Spiritual orphans in the work place, we tend to fight the daily battle alone.
Smith suggests ways we can cultivate healthier imagination, imaginations that hook us into God's better Story. How? Well that's the focus of his book. I look forward to reading it and encourage you check it out as well. You can learn more and order the book here: http://jameskasmith.com
Marketplace Faith: Dr. Chip Roper writes Marketplace Faith from New York City, where he is the director of Marketplace Engagement at the New York City Leadership Center. You can learn more about him here. Chip is available for speaking, consulting, and speaking engagements. Inquire via email: croper@nycleadership.com.