Barron Trump is a 10-year-old boy with the eyes of the nation on him.
On probably the most important day of his life, incredibly rude disappointed liberals decided that insulting the little boy was exactly the right thing to do.
"Saturday Night Live" writer Katie Rich, unimaginably, tweeted this: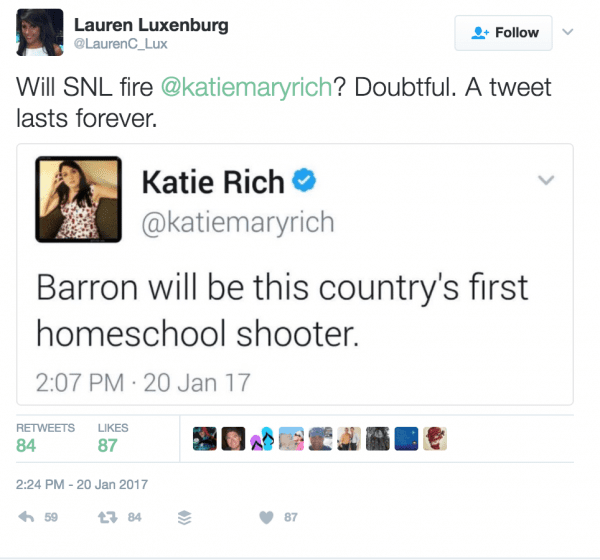 Classy.  There are at least third things wrong with this.  First, Barron isn't homeschooled.  Second, you don't treat other human beings like this. Third, the media used to freak out when the Obama daughters were ever disparaged.  As they say, "if they didn't have double standards, they wouldn't have any standards at all."
'member when the three networks led their evening newscasts w/ a story about a congressional aide who criticized the Obama girls? I 'member. pic.twitter.com/6k0oPQmuJ1

— T. Becket Adams (@BecketAdams) January 20, 2017
Of course, this SNL writer will receive no repercussions from this.  One tweeter put it best:
If you believed Sasha/Malia were off-limits (they were and rightly so) then you should believe Barron is off limits. It's that simple.

— Peter Hasson (@peterjhasson) January 20, 2017
I write a great deal about self-governance, about taking care of your own family without relying on the government or the community.  Moments like these, when you can see how benevolent the larger "community" is towards those who aren't able to defend themselves, reinforce that vital American principle.
In fact, this desire for "self-governance" and a fierce determination to stop being bullied by the cultural elites are two of the main reasons why Donald Trump was elected.
Keep it up, Katie Rich.
h/t PJ Media