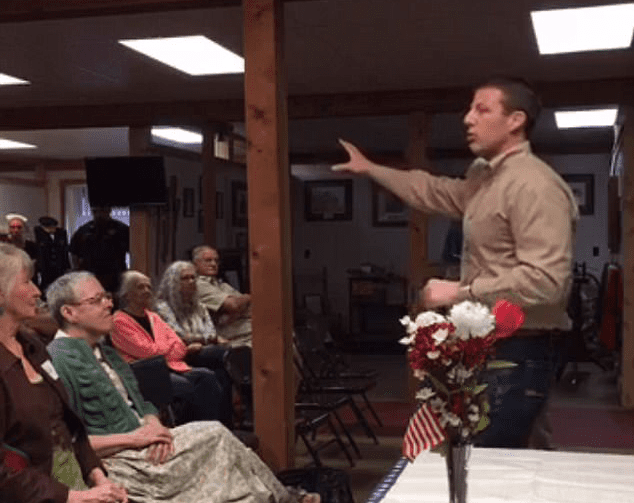 Republican Congressman Markwayne Mullin from Oklahoma just said one of the dumbest things a politician can say.
In front of a bunch of voters packed into a town hall he was holding, Mullin said, "You say you pay for me to do this? That's bullcrap. I pay for myself. I paid enough taxes before I got here and continue to through my company to pay my own salary. This is a service. No one here pays me to go. I do it as an honor."
You can imagine how well that went.
"Pays you to go where?" an angry woman screamed.
Ignoring the outcry, Mullin continued:
"I'm just saying, this is a service for me, not a career, and I thank God this is not how I make my living."
"Oh, please, then don't run," the same woman shouted.
A man reminded him he makes $174,000 as a congressman and requested he "give it up." Mullin's snipped back, "I have before. I've actually paid it back."
"Every year would be great," the man added.
According to The Daily Mail, Mullins, 39, operates a plumbing company and claims the money he earns and pays taxes on through his business more than covers his federal salary:
"I'm paying more taxes inside my company and personally than I'll ever receive from Congress."
Mullin has been holding these town halls throughout his district with similar results. He even had to cancel a town hall citing "safety concerns." His constituents have made it clear they are not happy with his comments.
"What about the free healthcare he and his family receive or the lifetime retirement this little snot will get?" someone wrote on Facebook. "And he inherited his business from his Daddy. So Markie Wayne is just another self serving brat who thinks he's entitled to this position. What a great ad this will make to run against him November 6th 2018."
Another wrote, "Don't worry Markwayne, your 'service' will no longer be needed soon."
This is not how a servant of the people acts. Unfortunately for him, it appears the people have spoken.
Click CONTINUE to see the video: